The hamburger steak recipe is a sweet and delicious recipe, made from hamburger steaks, chicken broth, worcestershire sauce, onion and other ingredients to make a perfect hamburger steak with onion and gravy.
Hamburger steak with onion and gravy is one of the recipes that my children love. They love to watch me in the kitchen while I prepare this delicious meal. This recipe can be pan fried on the stove and can be smothered in thick brown gravy with onions.
Tips and variations:
You can cook and crumble the bacon. It works great with the meat.
You can also top the steaks with Swiss cheese and allow to melt before serving.
Add the mushrooms to the gravy if you want.
If you desire creamier gravy, or want to increase the quantity of gravy, you can mix in a can of cream of mushroom soup at the end with a room temperature sour cream.
Prep time: 10 minutes
Cook time: 30 minutes
Total time: 40 minutes
Servings:: 4 people
Print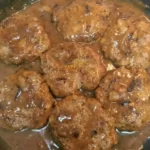 HAMBURGER STEAKS WITH BROWN GRAVY
---
Hamburger Steaks
2 Tablespoons olive oil
1 ½ lbs. ground beef, 85% lean
4 Tablespoons frozen butter
½ cup yellow onion, very finely minced
2 teaspoons yellow mustard
3 teaspoons Worcestershire
3 cloves garlic, minced
Salt/Pepper
Gravy
2 yellow onions, sliced into ¾ inch strings
3 Tablespoons cold unsalted butter, separated
1 cup chicken broth
1 cup beef broth
1 teaspoon onion powder
½ teaspoon garlic powder
1 ½ teaspoons Worcestershire sauce
¼ cup cold water + 3 tablespoons cornstarch
---
Instructions
STEAK
Step 1:
To prepare the Steaks, you will need to shred the frozen butter and combine the minced onions, butter, mustard, meat and worcestershire sauce gently to the frozen butter.
Step 2:
Form them into evenly sized oval steaks. Then chill and refrigerate for about 15 minutes. Then remove from the fridge and season each side with salt and pepper to taste.
Step 3:
In a large skillet over medium-high heat, heat the olive oil and add the hamburger steaks and sear on each side for 2-3 minutes. Set aside.
GRAVY
Step 4:
Reduce the heat to medium-low and melt 2 tbsp butter to the pan and add the onions. Allow to cook for about 15-20 minutes, until the onions are softened and begin to caramelize.
Step 5:
Add the chicken broth, beef broth, onion powder, garlic powder, and Worcestershire sauce. Then run them on a  silicone spatula along the bottom of the pan to lift up any remnants of meat to help give the gravy extra flavor.
Step 6:
Mix in the cornstarch and cold water until it is well combined. Allow the gravy to boil and whisk in the cornstarch mixture. Reduce the heat to medium and continue to whisk.
Step 7:
Add the steaks back to the pan and cover for 10 minutes, until it is well cooked with its internal temperature at 160 degrees. Add in the remaining 1 tbsp cold butter at the end.
Step 8:
Use a spoon to put the gravy on top and sprinkle with parsley. You can serve with mashed potatoes and roasted carrots.
Notes
Nutritional facts
Calories: 695kcal, Carbohydrates: 17g, Protein: 32g, Fat: 55g, Saturated Fat: 26g, Cholesterol: 173mg, Sodium: 753mg, Potassium: 711mg, Fiber: 2g, Sugar: 4g, Vitamin A: 612IU, Vitamin C: 11mg, Calcium: 70mg, Iron: 4mg