This is nostalgia soup for me with happy, cozy feelings from my childhood. My Mom made this quite often – especially in the autumn and winter – but we called it by the very plain name, Hamburger Stew. Coming in from school, or playing outside in the cold, the aroma from the kitchen was most comforting. I never aske my Mom how to make it and I think I convinced myself that only she could create something so wonderful.
My kids took after me and this soup was their favorite. My Mom lovingly made it for us every time we visited. When I found this recipe, I was determined to try to make it. My children believed that only Grandma could make this soup.
Well … I did it! The house had the same comforting aroma, and I immediately called my Mom to share my news. She laughed and told me that it was one of the easiest things to make. Indeed, it is incredibly easy, and everyone loves it which is great because I now make it about once a week!
Notes:
* You can use any type of ground beef. If you choose one with a higher fat content, make sure you drain the fat off well to avoid a greasy broth. I prefer a lower fat ground beef to reduce the amount of fat I need to drain.
* If you prefer fresh or frozen vegetables, just substitute equivalent quantities of vegetables, and add a can or two of beef broth or stock (14.5 oz.) This extra liquid when using fresh or frozen vegetables replaces the liquid from the undrained canned vegetables.
* If you only have chicken broth or stock, do not worry – use it! Personally, I love the flavor of chicken stock in beef soups and stews.
* You can decide how much of the broth or stock you add based on your preference – using less broth or stock will make a more stew-like consistency. Sometimes I want a soup and other times I want stew. Feel free to adjust the liquid to the consistency you are craving!
Print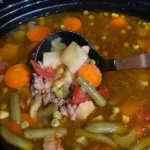 HEARTY CROCKPOT COWBOY SOUP
---
2 lbs. Ground beef
4 Yukon Gold Potatoes – Peeled and cut into small cubes
2 Cans Mixed Vegetables (15.25 oz. each) – Not drained
1. can Whole Sweet Corn (15.25 oz.) – Not drained
1 Can Condensed Tomato Soup (10.75 oz.)
1 Can Petite Diced Tomatoes (15.25 oz.) – Not drained
1 Can Cut Green Beans (15.25 oz.) – Not drained
Pinch Salt
Dash Pepper
2 Tablespoons Sugar
---
Instructions
In a heated skillet, add ground beef and season with a little salt and pepper. Brown the ground beef and then drain the fat.
Place beef and potatoes in a large slow cooker. Then add all the cans of vegetables and the can of tomato soup.
Finally, add the sugar. (Have faith, it really takes it up a level!)
Stir well, cover with the slow cooker lid, and cook on low for 2-3 hours.
Add more salt and pepper to taste if desired.
Serve with crusty bread or crackers, if desired.
Enjoy!