​These homemade cheesy chips taste just like Doritos and are so easy to make with just a few pantry ingredients. If you ask me they're far more delicious than the real version and don't fill you up with a ton of artificial ingredients. <–Blech.
You start off by blending the Dorito dust: Parmesan cheese, chili powder, smoked paprika, garlic powder, onion powder and salt is finely ground in a spice or coffee grinder. If you don't own one you can use a mortar and pestle and most likely it will work in a small food processor too.
The chips are made with corn tortillas and can be baked or fried. Of course I prefer the fried version. They turn out lighter and crispier than the baked ones. Not that the baked ones are bad – they're just not as good.
To bake brush the tortillas with vegetable oil, cut into triangles and spread out on baking sheets. Bake until crispy and golden, spray with non-stick vegetable oil spray and sprinkle on one side with the Dorito dust.
If you prefer to fry them you can do so in batches in about an inch of vegetable oil until lightly golden and crunchy. Sprinkle them with Dorito dust while still warm.
Store the Doritos up to 5 days in a ziploc bag. Just kidding. I doubt they'll even have a chance to cool before they disappear.
Move over popcorn night. . .There's a revolution comin' and it's called "homemade Doritos night".
Sounds like a good plan.
Print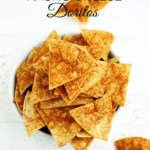 Homemade Nacho Cheese Doritos
---
Total Time:

25 minutes

Yield:

4

Servings

1

x
¼ cup

grated Parmesan cheese

1

+

½ teaspoons

chili powder

1 teaspoon

garlic powder

½ teaspoon

onion powder

½ teaspoon

smoked paprika

½ teaspoon

sea or kosher salt
12

corn tortillas
vegetable oil, for brushing the tortillas and for frying
non-stick vegetable oil spray, for baking
---
Instructions
In a coffee or spice grinder finely grind all the Dorito dust ingredients together. Alternately you can use a mortar and pestle. A food processor might also work <– I haven't tried it.
Brush one side of each tortilla with vegetable oil and stack them. Cut the stack in half down the middle then each half into three triangles.
Preheat the oven to 350 degrees F. Line two large baking sheets with parchment paper.
Spread the tortillas out in one layer and bake until crunchy and lightly golden around the edges 12 – 14 minutes.
Remove the pans from the oven and lightly spray the tops of the chips with non-stick vegetable spray. Sprinkle the Dorito dust all over them. Cool. Store leftovers in a ziploc bag up to 5 days.
Line a large baking sheet or platter with paper towels.
In a Dutch oven or large frying pan heat 1-inch of oil over medium heat to 350 degrees F.
Fry the chips in batches,not crowding the pan, turning them over to cook on both sides, about 2 minutes.
Remove with a slotted spoon and drain briefly on paper towels.
Add more oil to the pan between batches if needed.
Sprinkle the Dorito dust over them. Cool and store in a ziploc bag up to 5 days.
Prep Time:

10 minutes

Cook Time:

15 minutes

Cuisine:

American