These Honey Mustard Baked Chicken Drumsticks are a little different variant that bakes in your oven rather than on the grill! Every time, the dish turns out tangy and crunchy! My kids are obsessed with crispy chicken drumsticks. So we cook them frequently and want to experiment with different recipes. This honey mustard mix, along with the crispy roasting technique, makes it a family FAVORITE!
Honey Mustard Baked Chicken Drumsticks will undoubtedly become a family favorite! Make sure not to miss this, easy recipe and whip up the ultimate chicken dinner!
Print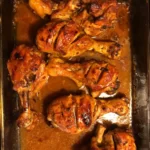 THESE HONEY MUSTARD BAKED CHICKEN DRUMSTICKS ARE AMAZING!
---
⅓ c. raw honey
2 tablespoons Dijon mustard
12 chicken drumsticks, about 1 ½ pounds
1 teaspoon garlic powder
1 teaspoon onion powder
2 tablespoons whole-grain Dijon mustard
2 teaspoons smoked paprika
a small handful of fresh parsley leaves, chopped as garnish

sea salt and fresh ground black pepper, to taste (about ⅛-1/4 tsp each)
---
Instructions
Step 1: Prepare the oven. Preheat it to 375 degrees F. Using cooking oil like avocado oil, lightly grease a large baking dish.
Step 2: Using paper towels, pat dry the chicken drumsticks.
Step 3: Into the prepared dish, place the chicken drumsticks and sprinkle with a pinch of sea salt and pepper.
Step 4: Place the mustard (Dijon mustard and whole grain Dijon mustard), honey, paprika and garlic, and onion powder in a small bowl. Mix well until combined. Over the chicken, pour the sauce and gently toss to coat.
Step 5: Place in the preheated oven and bake for about 35 to 40 minutes or until the internal temperature of the chicken reaches 165 degrees F. If you want to crisp up the chicken and get a nice glaze on top, broil for 2 to 3 minutes.
Step 6: Take the dish out of the oven and serve the Honey Mustard Baked Chicken Drumsticks right away garnished with some parsley (optional). Enjoy!