Junior's restaurant in NYC is most famous for their fabulous cheesecakes. Now you can make them in your very own kitchen because Junior's generously shared their much sought after recipe with the world. No need to travel far and wide although it is worth a trip to taste one of the greatest cheesecakes on Earth.
It truly is the best cheesecake I've ever made or eaten. It's super creamy, soft and rich like a dense, sweetened cloud with the perfect amount of sweetness vs. tartness.
I made it for Thanksgiving and Christmas and it will be my go-to special occasion dessert from now until the very end of time.
This recipe in it's entirety is not Junior's – only the most important part – the actual cheesecake. Junior's original recipe calls for a sponge cake crust – I swapped it out for a more traditional graham cracker crust. You can use plain or chocolate grahams. (If you'd like to try the sponge crust follow the link below for the recipe.)
The recipe calls for 2 pounds of cream cheese, sugar, cornstarch, eggs, vanilla and heavy cream. The only change I make is to use 2 large eggs instead of extra large because that's what I always have on hand and I don't believe that little bit of missing egg makes any difference.
It's a NY style cheesecake so it bakes up tall and high – it will come to the top of your spring form pan and maybe even a little over but sinks down as it cools. It's cooked in a "bain marie" or water bath – the spring form pan is set on a rimmed baking sheet and the baking sheet is filled with hot water. This will help prevent cracking.
The other thing I do is to let the cheesecake cool right inside the oven. I turn off the heat, pop the oven door open a crack and leave it for an hour two – a little trick I learned from Martha Stewart. This also will help stop the top from cracking.
Not that I mind a cracked cheesecake! Tastes every bit as delicious.
I should also mention it is best made the day before you plan on eating it because it needs to be chilled overnight for the best results.
For the topping I use a shortcut and buy jarred salted caramel and hot fudge – You can use walnuts or pecans, whichever you prefer.
Happy baking!
Print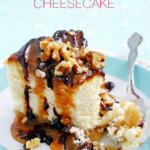 JUNIOR'S FAMOUS NEW YORK STYLE CHEESECAKE W/ A SALTED CARAMEL TURTLE TOPPING
---
Crust:
1 + ½ cups graham cracker crumbs (plain or chocolate)
3 tablespoons sugar
⅓ cup butter or margarine, melted
Cheesecake:
4 (8 ounce) packages full fat cream cheese, at room temperature
1 + ⅔ cups sugar, divided
¼ cup cornstarch
1 tablespoon pure vanilla extract
2 large eggs
¾ cup heavy or whipping cream
Toppings:
Salted Caramel
Hot Fudge
chopped walnuts or pecans
---
Instructions
Grease a 9-inch spring form pan with butter and wrap the bottom of it in aluminum foil. Preheat the oven to 350°F.
In a medium bowl with a fork combine the graham cracker crumbs, sugar and melted butter.
Dump the graham crackers into the bottom of the pan and press them out evenly from edge to edge.
In the bowl of a stand mixer or in a mixing bowl with a handheld electric mixer on low speed beat one package of the cream cheese, the corn starch and ⅓ cup of sugar together about 3 minutes.
Beat in the remaining cream cheese one package at a time on low speed until creamy. Scrape down the bowl between each package.
On medium speed beat in the rest of the sugar followed by the vanilla.
On low speed beat in one egg at a time until smooth and creamy.
Beat in the cream.
Place the cake pan on a large baking sheet with sides.
Pour the cream cheese mixture into the pan.
Place the baking sheet in the oven and pull the oven rack out slightly. Make a water bath by pouring hot water carefully onto the baking sheet so it comes ⅓ to ½ way up the sides of the pan.
Bake about 1 hour and 15 minutes or until golden around the edges/top and set in the center.
Turn the heat off in the oven and crack the door open. Let the cheesecake cool 1 – 2 hours.
Remove from the oven and cool completely on a wire rack.
Chill overnight.
To serve: Remove the ring from the side and cut into wedges with a chef's knife. For clean slices dip the knife in hot water and wipe clean after each cut.
Drizzle salted caramel and hot fudge over the cut slices and garnish with chopped walnuts or pecans.