The lemon after taste in this cake is incredible! You would want to taste it every bite you take. This will be the best Lemon Meringue recipe you will ever try. So, start preparing the ingredients and preheat the oven!
Prep: 30 mins | Cook: 40 mins | Additional: 4 hrs 20 mins | Total: 5 hrs 30 mins | Servings: 10 | Yield: 1 layer cake
Print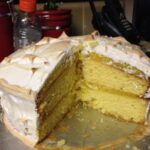 LEMON MERINGUE CAKE
---
1 (18.25 ounce) package lemon cake mix
1 ¼ cups water, or as needed
3 large eggs eggs
⅓ cup vegetable oil
1 (21 ounces) can lemon pie filling
3 large egg whites egg whites
½ cup white sugar
---
Instructions
Step 1: Ready the oven. Preheat it to 350 degrees F or 175 degrees C. Then, grease and flour three 8-inch cake pans.
Step 2: In a bowl, add the cake mix, water, eggs, and vegetable oil. Mix following the direction on the package. Then, pour the batter into the prepared cake pans.
Step 3: Place in the preheated oven and bake for 30 to 35 minutes. Check the doneness by inserting a toothpick in the center of the cake. Once it comes out clean the cake is done.
Step 4: Remove from the oven and allow to cool in the pan for 20 minutes or until thoroughly cool.
Step 5: When thoroughly cool, work a paring knife between the cake and the edge of the pan.  Loosen the cake by holding the side of the cake pan and gently tapping the sides against the counter. Use a plate or cooling rack to cover the cake pan before inverting it onto a plate.
Step 6: It is time to fill and decorate the cake! Onto an oven-safe plate, lay the cake layer, and over the bottom layer, spread half of the lemon filling. Gently place the next layer on top of the lemon filling, then, spread on top of the cake the rest of the filling. Finally, top it with the third cake layer.
Step 7: In a bowl, beat the egg whites until they form a stiff peak. Slowly add in the sugar. Continue to beat until a fluffy, shiny meringue forms. Spread this all over the cake (like a frosting). Scattered into decorative peaks and swirls.
Step 8: Return the decorated cake in the hot oven. Bake for another 10 minutes until the peaks and swirls of the meringue are lightly brown.
Step 9: Remove from the oven and place it in the fridge for 4 hours or overnight.
Step 10: Serve cold. Enjoy!
Notes
Nutrition Facts:
Per Serving: 551.8 calories; protein 8.8g 18% DV; carbohydrates 88.9g 29% DV; fat 18.8g 29% DV; cholesterol 146.3mg 49% DV; sodium 456.2mg 18% DV