Mini Cherry Cheese Danishes
Danishes – a pastry as delightful to eat as it is to say. While the traditional Danish is a joy, we're adding a fun twist with our Mini Cherry Cheese Danishes. These bite-sized beauties combine the creamy sweetness of cheese, the tartness of cherry, and the flaky goodness of pastry. Perfect for brunch, dessert, or a snack, they're sure to become a favorite!
Questions & Answers:
Can I use other fruit fillings for these Mini Cheese Danishes?
Absolutely! While cherry is a classic, you can substitute any type of fruit preserves or pie filling you prefer. Blueberry, strawberry, and apricot all make great alternatives.
Can I make my own puff pastry for these danishes?
Yes, if you're feeling ambitious, you can certainly make your own puff pastry. However, using store-bought puff pastry is a great time-saver and usually yields very good results.
How do I store leftover Mini Cherry Cheese Danishes?
Store any leftover danishes in an airtight container at room temperature. They will last for about two days. For longer storage, you can refrigerate them for up to a week, or freeze them for up to three months.
Indulge in these Mini Cherry Cheese Danishes, and experience the magical combination of creamy, tart, and sweet in each bite-sized delight. They are an elegant yet easy-to-make treat that will surely impress your family and friends. Enjoy!
FAQs:
What are Mini Cherry Cheese Danishes?
Mini Cherry Cheese Danishes are small, bite-sized pastries made with a flaky dough, filled with a sweet cream cheese mixture, and topped with cherry preserves or pie filling. They're a miniature version of the larger cherry cheese Danish pastries you'd find in a bakery.
How are Mini Cherry Cheese Danishes made?
Mini Cherry Cheese Danishes are usually made using puff pastry or crescent roll dough, which is cut into small squares or circles. A dollop of a cream cheese mixture (often sweetened with sugar and flavored with vanilla) is placed in the center, then topped with cherry filling. The danishes are then baked until golden and flaky.
Can Mini Cherry Cheese Danishes be made in advance?
Yes, you can prepare Mini Cherry Cheese Danishes a day ahead and store them in the refrigerator. Before serving, let them come to room temperature or warm them slightly in the oven for that fresh-baked taste.
Print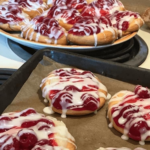 Mini Cherry Cheese Danishes
---
Author:

Total Time:

30 minutes
Description
These Mini Cherry Cheese Danishes a simple, yet beautiful dessert. The crescent rolls are the perfect base for the sweet cream cheese and the tart cherries.
---
1

package of crescent rolls You can use frozen as well but make sure they are thawed before use. The recommended one is Pilsbury for the perfect taste
Flour

1

or

2

tbs for dusting
Filling
Cream cheese

4 ounces

¾ cup

powdered/granulated sugar

½ teaspoon

of vanilla splash

1

can of cherry pie filling
Glazing
⅓

granulated sugar to sprinkle on the Danishes

3

tbs milk
---
Instructions
Now, it is time to prepare this sweet and candied dish. Take out the crescent rolls and unroll them. With a knife carefully cut them from the middle to make 15 slices.
Now, put them on the parchment paper. Make sure that the paper is greased before adding the slices.
You can use any measuring cup or a small saucer to press the rolls for a flat shape. Make sure to create walls with your hands so the filling remains inside.
Now, sprinkle flour on the sheet and over the rolls so they don't stick.
Now, take a beater and mix soft cream cheese, powdered sugar, and vanilla splash.
After preparing it carefully add small amounts of the mixture on each Danish. Make sure to do it nicely as you do not want to overdo it.
Now open the can and add 4 to 5 cherries according to your liking.
Put them in the oven and bake them for 15 to 20 minutes at 350 degree.
Now let it cool and prepare for the glaze.
You can mix powdered sugar and milk in the beater to make a thick mixture for glazing.
Add it on the top of Danishes and your favorite, mouthwatering recipe is ready.
Prep Time:

10 minutes

Cook Time:

20 minutes

Category:

DESSERT
Keywords: Mini Cherry Cheese Danishes