The most delicious cheesy garlic bread sticks – the perfect size for dipping in your soup, stew, chili or pasta sauce. Buttery garlic infuses every crunchy bite alongside Parmesan and a touch of mozzarella cheese.
There's not a ton of mozzarella – just a smattering – enough to cling to the bread and not slide off into oblivion when you dunk it into your soup.
The recipe starts by slathering Italian or Ciabbatta bread with soft butter mixed with chopped garlic, fresh parsley and Parmesan cheese. Wrapped in foil, it goes into the oven for about 12 minutes or until warm through the center.
The bread is sliced into thin strips, laid out on a baking sheet, sprinkled with mozzarella and stuck under the broiler where it melts and caramelizes.
Now, and only now, it's ready for dipping and dunking to your heart's content.
The finishing touch to make any meal extra-special.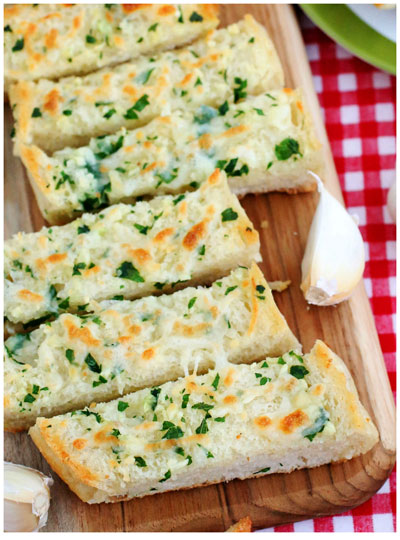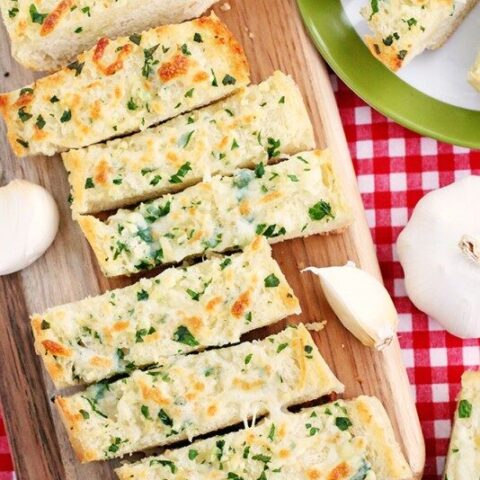 Mozzarella Garlic Bread Dunkers
Ingredients
4 tablespoons salted butter, softened
1 teaspoon minced garlic
1 scant tablespoon fresh chopped parsley
1 tablespoon grated Parmesan cheese
½ loaf Italian or Ciabatta bread
½ cup shredded mozzarella cheese
Instructions
Preheat the oven to 350 degrees F.
In a small bowl mix the butter, garlic, parsley and Parmesan together.
Cut the bread in half lengthwise and smear the butter from edge to edge.
Place the two halves back together, wrap the bread in foil and bake on the middle oven rack 12 minutes.
Take the bread out and heat the broiler.
Unwrap the bread and cut into 1-inch wide strips with a serrated knife.
Place on the baking sheet butter side up and sprinkle with mozzarella cheese.
Broil about 2 minutes with the oven door cracked open until the cheese melts and turns lightly golden.
Nutrition Information:
Amount Per Serving:
Calories:

0
Total Fat:

0g
Saturated Fat:

0g
Trans Fat:

0g
Unsaturated Fat:

0g
Cholesterol:

0mg
Sodium:

0mg
Carbohydrates:

0g
Fiber:

0g
Sugar:

0g
Protein:

0g