This easy, one-pan chicken dijonnaise comes together in about 25 minutes making it perfect for a busy weeknight or any night when you want something special without a lot of work.
Boneless chicken breasts coated in flour are pan-fried in butter until cooked through. The flour forms a crunchy, golden-brown coating on the outside that is positively delicious. The chicken is removed and a sauce is made with the buttery drippings left in the bottom of the pan.
Heavy whipping cream, white wine(or chicken broth) and Dijon mustard plus a few chopped green onions make up the sauce that comes together in under five minutes.
It's super creamy with a hint of mustard that isn't overpowering in the least. Even if you don't like mustard, chances are you'll like this sauce. . .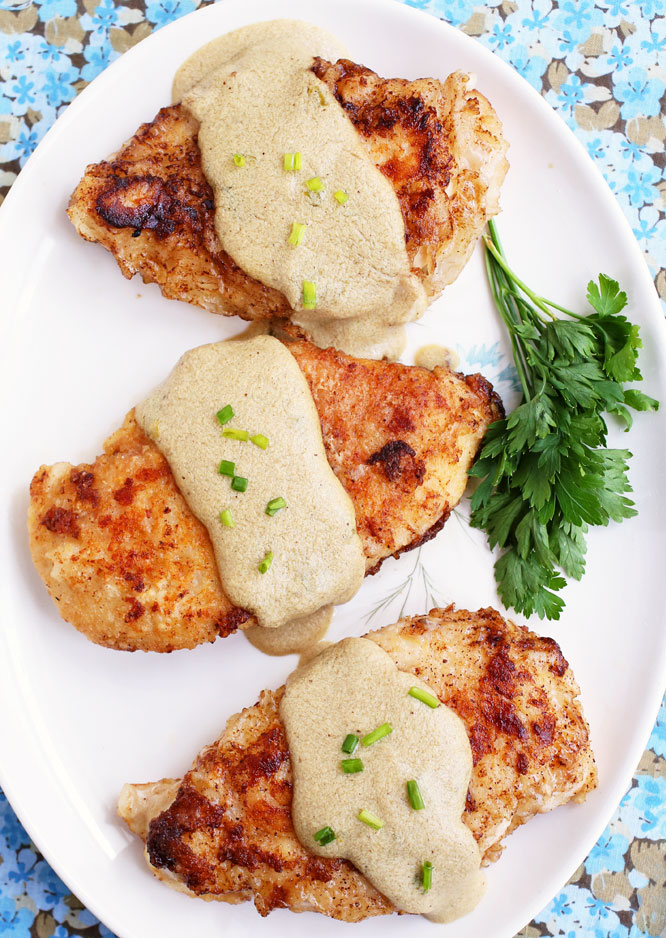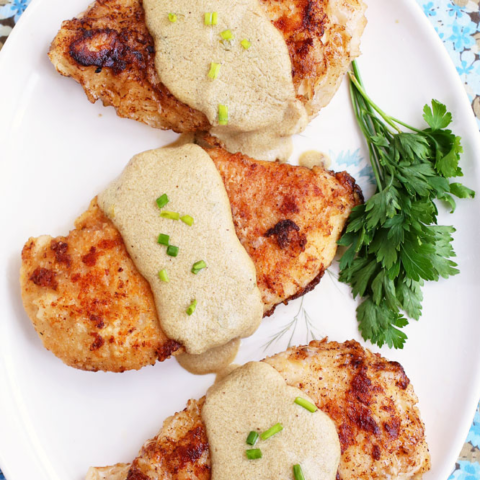 Chicken Dijonnaise
Ingredients
3 - 4 boneless chicken breasts
sea or kosher salt and fresh black pepper
½ cup all-purpose flour or cornstarch
3 tablespoons butter
2 tablespoons chopped green onions, divided
⅓ cup heavy whipping cream
¼ cup white wine (or low-sodium chicken broth)
¼ cup Dijon mustard
Instructions
Place chicken breasts between two pieces of plastic on a cutting board and pound out to an even thickness ¾ - 1-inch thick.
Season them well with salt and pepper.
Place the flour or cornstarch in a wide shallow bowl. Dredge the chicken breasts coating them lightly on each side.
Heat a large frying pan over medium heat and melt the butter.
Add the chicken and cook about 7 - 8 minutes. Turn them over and cook another 5 - 7 minutes or so - until internal temperature on a meat thermometer (into the center of the breast) registers 165 - 174 degrees F.
Remove the chicken breasts to a platter and cover with foil.
Add 1 + ½ tablespoons green onions to the skillet and cook for 1 minute.
Add the heavy whipping cream and whisk the wine and mustard into it.
Bring to a simmer while whisking and cook 2 - 3 minutes.
Ladle over the chicken and garnish with the remaining green onions to serve.
Nutrition Information:
Amount Per Serving:
Calories:

0
Total Fat:

0g
Saturated Fat:

0g
Trans Fat:

0g
Unsaturated Fat:

0g
Cholesterol:

0mg
Sodium:

0mg
Carbohydrates:

0g
Fiber:

0g
Sugar:

0g
Protein:

0g