I am a big fan of Outback Steakhouse. I love their onion soup and to be able to make it in the comfort of my home makes me always super excited! This Outback Steakhouse Walkabout Onion Soup is not difficult to make. This requires only a few simple ingredients that you might already have on hand and easy-to-follow steps to throw together.
Enjoy a hearty onion soup any time with this easy Outback Steakhouse copycat recipe. I have received awesome reviews from everyone I know about this recipe, even before trying it. And this did not disappoint! This really tastes like exactly the real deal! This might not be the complete recipe, but this did the trick! This Outback Steakhouse Walkabout Onion Soup is rocking it!
Tips:
What's the best way to make the thick white sauce?
The best way to do this is get a quart saucepan and put the butter and flour into there. Make sure that it sits on a medium heat until the flour gets thick. Then, take the milk, adding a little bit, and stir this all the time. make sure you get it to a thick pudding consistency
How can I make this thicker?
Some people don't like how thin it is, but the best way to ensure that the mixture is thick and not lumpy is to add more flour. Try to reduce how much milk you put in there, since it is what things this out. You should try to go for a texture that's thick like pudding, and very creamy as well for the best results.
How can I stop it from lumping?
A common problem with this recipe is that the white sauce on top tends to lump. This can make the dish taste funny, and the white sauce gets ruined if you do let it lump. While this is a problem, there is a way to fix this.
The best way to do so, is to constantly stir this. Make sure that you're stirring it all the time, until it's ready to serve. You also should make sure that it's off heat once you're done making it, since it can get kind of soupy as well if you let it sit there to lump.
Is this really like the Outback Steakhouse Soup?
While it's not the full recipe, it tastes just like this, so if you're a fan of Outback steakhouse, or remember this soup, you can bring that to your home.
This is also good if you want to eat it, but you don't live near an Outback, and you can take this recipe, make it, and serve it right from the comfort of your home, which makes this even better for many people too.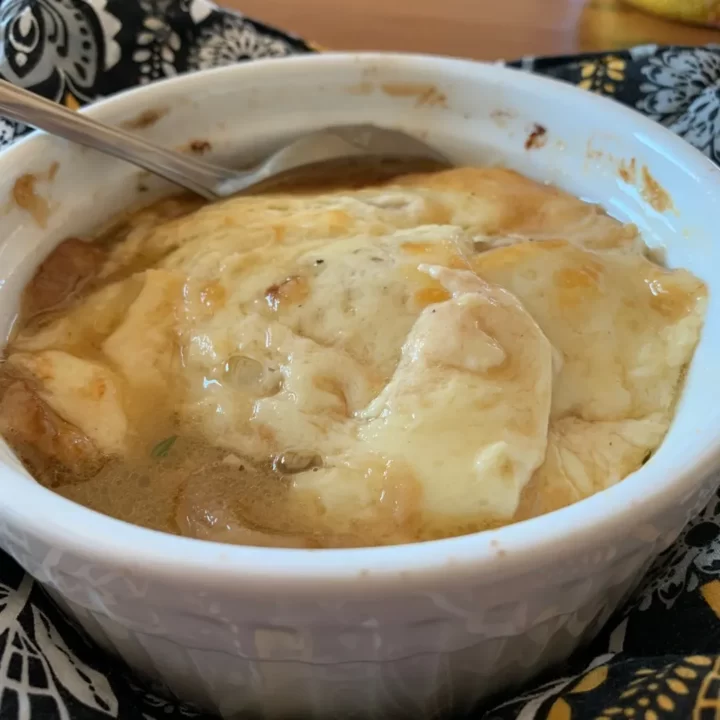 Outback Steakhouse Walkabout Onion Soup
Ingredients
2 cups yellow sweet onions, thinly sliced……
2 tablespoons butter
1 (15 ounce) can chicken broth…
1/4 teaspoon salt
1/4 teaspoon fresh pepper, ground
2 chicken bouillon cubes
1/4 cup Velveeta cheese, cubes, diced (compressed in measuring cup)
1 1/2-1 3/4 cups white sauce (below)
cheddar cheese, shredded (for garnish)
White Sauce
3 tablespoons butter
3 tablespoons flour
1/4 teaspoon salt
1 1/2 cups whole milk
Instructions
Get a pan that's about 2 quarters and put the sliced onions along with 3 tablespoons of the butter in there.
Cook this at a heat that's low, letting it stir for a bit until they're clear and soft, not a brown color
Take the chicken broth and put it in there, the bouillon cubes, the pepper, and the salt, stirring this until everything's heated up all the way through
Add the Velveeta cheese and the white sauce. Make sure that you have the white sauce looking thick, since it will not have heat on it just yet. Let this simmer until the cheese fully melts and the ingredients are properly blended
Put the temperature on warm, and let this sit to cook for another 30-45 minutes
Serve this with a garnish of parsley
Nutrition Information:
Amount Per Serving:
Calories:

0
Total Fat:

0g
Saturated Fat:

0g
Trans Fat:

0g
Unsaturated Fat:

0g
Cholesterol:

0mg
Sodium:

0mg
Carbohydrates:

0g
Fiber:

0g
Sugar:

0g
Protein:

0g