Sliders are a great dish because they make a fun entrée, and they're great if you want a smaller sandwich, not a giant burger. They also have some great additives to this that make it a totally wonderful snack, and something that, if you do have it, you'll end up loving it, and it's something that really does make it taste good and filling.
They're simple, and you can put this on any type of bun, whether it's a tasty Hawaiian roll, or a sourdough bread, if you want some sourdough sliders. With the oozing Philly cheesesteak texture, this is a real winner of an item, and something that you won't get enough of, no matter what you do.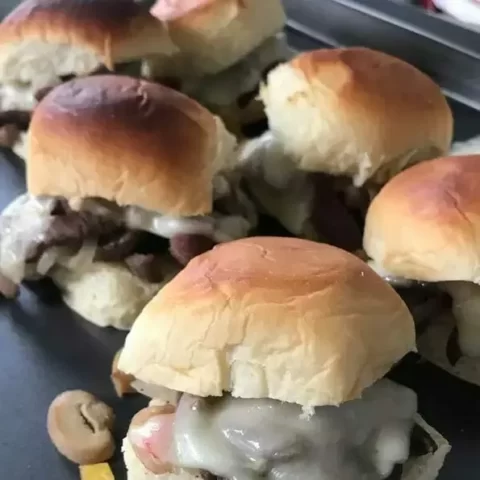 Philly Cheesesteak Sliders
Ingredients
1 lb sirloin steak thinly sliced
12 Hawaiian Rolls
1/2 medium yellow onion sliced
1 clove garlic minced
1/2 large green bell pepper sliced
2 oz. fresh mushrooms minced
1/2 tsp smoked paprika
1 tbsp Worcestershire sauce
1/3 c. mayonnaise
2 tbsp bacon grease
3/4 c. Cheez Whiz
6 slices provolone cheese
1/2 tsp salt
1/8 tsp ground black pepper
Garlic Butter:
3 tbsp salted butter melted
1 tbsp Italian parsley minced
1/4 tsp roasted garlic powder
Instructions
Take the garlic and mince this with the mushrooms together. Get your bell peppers and onions, slicing them up so that they're in thin slices.
Get the steak and make sure that you slice this into small strips. Try to go against the grain to keep the fat intact on the meat.
Get a skillet, and then heat up the olive oil or the bacon grease, whichever you prefer. From there, add the veggies and sauté all of them until they're nice and tender, then put it aside.
Put the steak onto your skillet, along with the pepper, salt, the smoked paprika, along with the Worcestershire sauce, and then cook this until everything properly cooked together.
Put the veggies into the mixture again, and then let it stir and simmer so that the meat is cooked completely.
From there, you can let this cook, and slice your rolls of choice. In a baking dish that's greased, put the bottom layer of the baking sheet topped with some rolls, and then add mayo over the top portion of this, and then some cheese. From there, you want to top all of this with the veggies and the meat.
From there, you want to mix the roasted garlic with the melted butter, along with your minced parsley, and then brush the top parts of the roll bunds with the mixture, and then add more parsley over the top of this.
Tent them and from there, put the buns in the oven at 350 degrees. Cook this for up to 15 minutes until the cheese melts on top of this. Then, take the foil off and let this bake for another 10 minutes until everything's properly cooked.
Take this off the heat, serve the sliders nice and warm. Serve it with a side of fries or a salad if you're curious. If you want to add more toppings to this like ketchup, you can, but usually these sliders are good without it, so you don't have to do much besides eat them! you can also serve these later on, just warm them up beforehand for best results when you're eating these.
Nutrition Information:
Amount Per Serving:
Calories:

0
Total Fat:

0g
Saturated Fat:

0g
Trans Fat:

0g
Unsaturated Fat:

0g
Cholesterol:

0mg
Sodium:

0mg
Carbohydrates:

0g
Fiber:

0g
Sugar:

0g
Protein:

0g