Get ready for a culinary adventure as we present our Golden Delight Puff Pastry Chicken Potpie! Imagine succulent pieces of chicken, vibrant vegetables, and a luscious cream sauce, all encased in a golden-brown lattice of puff pastry. This recipe takes the classic comfort of chicken potpie to new heights, delivering a dish that's as visually stunning as it is delicious.
Resume of the Recipe:
The Golden Delight Puff Pastry Chicken Potpie is a symphony of flavors and textures. Tender chicken, a medley of vegetables, and a rich, creamy sauce come together beneath a flaky puff pastry lattice to create a dish that's both comforting and impressive. With a touch of herbs and a hint of lemon, every bite is a culinary masterpiece.
Closing:
Our Golden Delight Puff Pastry Chicken Potpie is not just a meal; it's an experience. From the first flaky bite of puff pastry to the last spoonful of creamy goodness, this recipe will become a cherished favorite. Whether you're hosting a dinner party or simply craving comfort food, this potpie is sure to delight your senses.
Frequently Asked Questions:
Can I use store-bought rotisserie chicken for this recipe?
Absolutely! Using pre-cooked rotisserie chicken is a time-saving option that adds a depth of flavor to the potpie.
Can I substitute fresh vegetables for frozen ones?
Yes, feel free to use fresh vegetables, but make sure to adjust the cooking time as needed to ensure they are tender.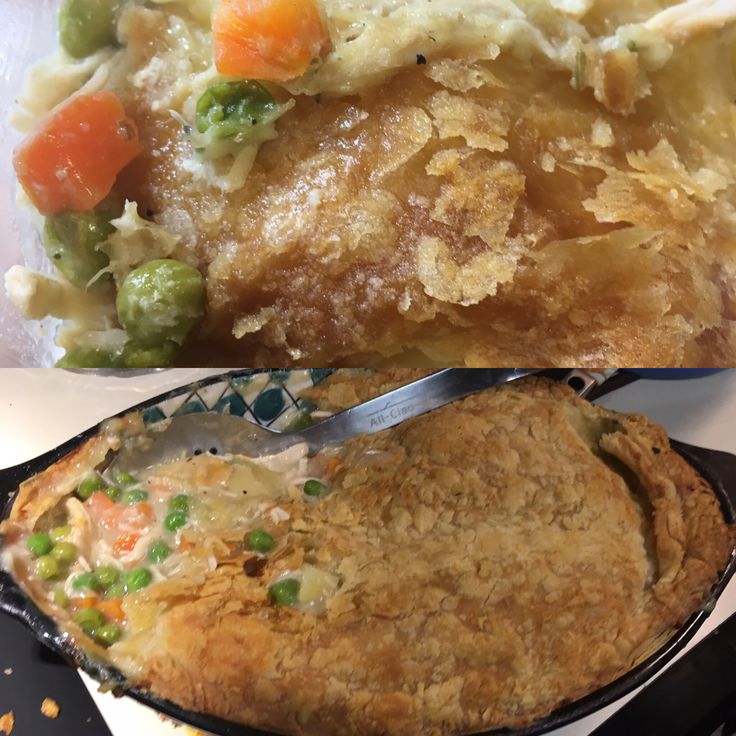 Print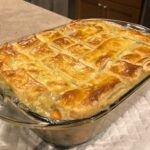 Puff Pastry Chicken Potpie
---
Author:

Total Time:

1 hour 15 minutes

Yield:

6

Servings

1

x
1 package (17.3 ounces) frozen puff pastry, thawed
2 pounds boneless skinless chicken breasts, cut into 1-inch pieces
1 teaspoon salt, divided
1 teaspoon pepper, divided
4 tablespoons butter, divided
1 large onion, chopped
2 garlic cloves, minced
1 teaspoon minced fresh thyme or 1/4 teaspoon dried thyme
1 teaspoon minced fresh sage or 1/4 teaspoon rubbed sage
1/2 cup all-purpose flour
1–1/2 cups chicken broth
1 cup plus 1 tablespoon half-and-half cream, divided
2 cups frozen mixed vegetables (about 10 ounces)
1 tablespoon lemon juice
1 large egg yolk
---
Instructions
Preheat your oven to 400°F. Roll each puff pastry sheet into a 12×10-inch rectangle. Cut one sheet into six 2-inch strips and the other sheet into five 2-inch strips. Create a lattice pattern on a baking sheet and freeze while preparing the filling.
Toss chicken with 1/2 teaspoon each of salt and pepper. Brown the chicken in 1 tablespoon of butter in a skillet over medium-high heat. Remove from the pan.
In the same skillet, sauté chopped onion in the remaining butter until tender. Add garlic and herbs; cook for an additional minute. Stir in flour until blended; gradually add broth and 1 cup cream. Bring to a boil, stirring constantly until thickened.
Stir in vegetables, lemon juice, browned chicken, and the remaining salt and pepper. Bring to a boil again. Transfer the mixture to a greased 2-1/2-qt. oblong baking dish. Top with the frozen lattice, trimming it to fit.
Whisk together egg yolk and the remaining cream; brush over the pastry lattice. Bake until the filling is bubbly, and the pastry is golden brown, approximately 45-55 minutes. Cover loosely with foil if the pastry gets too dark. Let it stand for 15 minutes before serving.
Prep Time:

30 minutes

Cook Time:

45 minutes

Category:

Dinner, Comfort Food, Impressive Dishes