Carrot Cake is my favorite cake and always has been. I love it because of all the "stuff" it contains – delicious stuff. As a rule, I am a purist when it comes to baking cakes. It is tradition for me to make every birthday cake for my children and I have made wedding cakes. I will admit that boxed mixes are great to keep on hand, they serve a valuable purpose, and when you make small tweaks to the recipe, no one will know that you began with a box of cake mix.
My grandmother made spice cake regularly and I still remember the smell of it baking. My mom made homemade cakes all the time as well and it was from her that I learned the art. This cake recipe is one for which I will break my rule.
This recipe saved the day when I found out it was someone's birthday, and they did not have a cake. For as long as I can remember, if it were someone's birthday and they did not have a cake I would make one for them – I have whipped up many birthday cakes at the last minute.
This time, I was out of flour. I did have a box of spice cake mix and I found this recipe quickly and took a leap of faith. It was worth it, and I am glad. It really does taste homemade and comes together beautifully. You will have to make this cake and I am confident that everyone will think it is from scratch!
Notes:
• Walnuts are great in this cake if you do not have pecans or do not like pecans. On another note, if you are allergic to nuts, the cake will still be fabulous.
• If you do not like pineapple in your carrot cake – many don't – leave it out and up the shredded carrots to 3 cups (packed).
• Do not buy pre-shredded carrots. They need to be freshly grated/shredded for a moist texture of the cake.
Print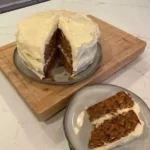 SHORTCUT CARROT CAKE
---
Cake
1 (18 ounce) box spice cake mix (I use Betty Crocker's Super Moist)
1/2 cup butter – melted and cooled
3 eggs
1 cup water
2 cups shredded carrots (freshly shredded)
1 cup crushed pineapple, drained (8 ounce can)
1 cup chopped pecans, divided (3/4 for cake & 1/4 for the top)
1/2 cup sweetened shredded coconut
Cream Cheese Frosting
2 (8 ounce) packages cream cheese, softened
2 cups powdered sugar
1 (8 ounce) containers Cool Whip Topping, thawed
---
Instructions
Preheat oven to 350° F
Grease two cake pans
In a mixing bowl, beat on high until well combined the spice cake mix, melted and cooled butter, eggs, and water.
Fold in the shredded carrots, crushed pineapple, 3/4 cup chopped pecans, and shredded coconut until combined.
Divide batter between the two cake pans. Tap pans lightly on countertop to release any air bubbles.
Bake for 25-30 minutes – Test the center with a toothpick. If it comes out clean, the cakes are done.
Let cool in pan for 10 minutes and then transfer to cooling rack. You want to wait until you can hold your hand on the bottom of the pan before you turn the cake out onto the cooling rack.
Making the Frosting
In a mixing bowl, combine the cream cheese and powdered sugar and beat until smooth and creamy.
Gently fold the Cool Whip into the cream cheese mixture.
Assemble and Frost
Once cakes have completely cooled, place one of the layers onto a tray or cake plate.
Top the first layer of cake with a layer of frosting. Put the second layer of cake on top of the first and cover the top and sides of the cake.
Sprinkle the remaining pecans on top of the cake before serving.