Lettuce wraps are a delicious and easy way to enjoy your favorite foods. These teriyaki chicken lettuce wraps are quick and easy to make and they can be served as an appetizer or main dish—they're perfect for any occasion!
There are several reasons why you should try this recipe for Quick and Easy Teriyaki Chicken Lettuce Wraps. For one, it is a quick and easy recipe to follow that doesn't require a lot of ingredients or time to make. Additionally, this recipe is healthy and flavorful, making it a great option for a light lunch or dinner. Finally, this recipe is versatile and can be made with different types of lettuce or chicken, depending on your preference.
Pro Tips:
Assuming you have all the ingredients on hand, this recipe comes together in about 30 minutes or less. Here are a few pro tips to make it even easier:
1. If you're short on time, you can use pre-cooked chicken. Just be sure to add it to the pan at the end so it doesn't dry out.
2. For an even quicker meal, use store-bought teriyaki sauce. I like to add a little extra ginger and garlic to mine, but that's optional.
3. To save on dishes, I like to cook everything in one pan. First, sauté the chicken and vegetables. Then, add the sauce and let it all simmer together until heated through.
4. These lettuce wraps are best when served fresh, but they'll keep in the fridge for a day or two. Just be sure to wrap them tightly so the lettuce doesn't wilt.
Notes:
In this quick and easy recipe, chicken is cooked in a delicious teriyaki sauce and served in lettuce wraps. This is a perfect meal for busy weeknights!
There are a few things to keep in mind when making this recipe:
-The chicken needs to be cooked through before adding the sauce. Otherwise, the sauce will not stick to the chicken and will just end up making the lettuce wraps soggy.
-If you want to save time, you can use store-bought teriyaki sauce. Just make sure to read the ingredients list carefully, as some store-bought sauces can be high in sugar or other unhealthy additives.
-These lettuce wraps can be served with rice, quinoa, or even just on their own. They make a great light meal or appetizer!
Conclusion & Recipe:
There are many quick and easy recipes for Teriyaki chicken lettuce wraps, but this is one of the tastiest and most satisfying. The sweet and savory teriyaki sauce pairs perfectly with the crispy lettuce and juicy chicken, making for a delicious and healthy meal. This recipe can be made in under 30 minutes, so it's perfect for a busy weeknight. And, because it's so easy to make, you can easily double or triple the recipe to feed a crowd. Whether you're looking for a quick and easy meal or a tasty party dish, these Teriyaki chicken lettuce wraps are sure to please.
Prep Time: 15 minutes
Cook Time: 15 minutes
Total Time: 30-45 minutes
Servings: 4
Print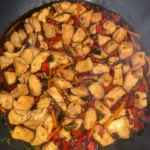 QUICK AND EASY TERIYAKI CHICKEN LETTUCE WRAPS RECIPE
---
1 ½ lbs. Chicken breasts without bones and skin, cut into small pieces
2 tbsp. sesame oil, split
⅔ cup shredded carrots
1 clove minced garlic
1 cup chopped green onion
1 large red bell pepper, seeds, and diced
1 8oz. can be sliced water-chestnuts, drained, and chopped
⅔ cup peanuts or cashews, roughly chopped
1 cup Kinder's Teriyaki Marinade & Sauce.
Iceberg, Romaine, and butter leaves
2 tbsp. 2 tbsp.
---
Instructions
Heat 1 tbsp. of sesame oil in a large skillet. Sesame oil on medium heat
Cook the chicken for about 3-5 minutes, or until it is no longer pink in the center. Transfer to a plate.
Heat 1 tbsp. Sesame oil on medium heat. Add garlic and ⅔ cup green onions. Saute for 30 seconds.
Cook for an additional 2 minutes.
Mix in ⅓ of the Teriyaki Sauce. Reserve the rest for drizzling. Stir occasionally and cook for one minute.
Mix in the chicken and carrots. Heat until you are satisfied with the mixture.
Serve with lettuce leaves, garnished with cashews and green onions, and garnished with sesame seeds. Enjoy!