Get ready for a taste sensation that will leave you craving more! Our Vidalia Onion Upside Down Cornbread is a delectable combination of sweet and savory flavors that will delight your taste buds. Made with the finest Vidalia onions, this cornbread is a true Southern classic with a twist.
Imagine biting into a slice of warm, moist cornbread and being greeted by the caramelized sweetness of Vidalia onions. The combination of the slightly tangy onions and the rich cornbread is sheer perfection. It's a match made in culinary heaven!
Why Vidalia Onions?
Vidalia onions are known for their unique sweetness and mild flavor. Grown exclusively in Vidalia, Georgia, these onions are a favorite among chefs and home cooks alike. The low sulfur content in the soil of this region gives Vidalia onions their distinct taste, making them the perfect choice for our Upside Down Cornbread.
When cooked, Vidalia onions become tender and sweet, almost like candy. They add a depth of flavor to our cornbread that is hard to resist. Whether you're serving it as a side dish or enjoying it on its own, our Vidalia Onion Upside Down Cornbread is sure to impress.
How It's Made:
Making our Vidalia Onion Upside Down Cornbread is a labor of love. We start by sautéing the Vidalia onions until they are golden and caramelized. This brings out their natural sweetness and infuses every bite of cornbread with incredible flavor.
Next, we pour a layer of the caramelized onions into the bottom of our cast-iron skillet. This creates a beautiful golden topping when the cornbread is flipped over. We then pour our homemade cornbread batter over the onions and bake it to perfection.
The result is a moist and flavorful cornbread with a gorgeous caramelized onion topping. The combination of sweet and savory flavors is simply irresistible.
Where to Enjoy:
Our Vidalia Onion Upside Down Cornbread is available for purchase at our bakery located in the heart of Vidalia, Georgia. Drop by and treat yourself to a slice or take home a whole pan to share with family and friends. It's the perfect addition to any meal or gathering.
Can't make it to Vidalia? Don't worry! We also offer online ordering, so you can enjoy our delicious cornbread no matter where you are. Simply visit our website and place your order, and we'll ship it right to your doorstep.
So what are you waiting for? Indulge in the sweet and savory goodness of our Vidalia Onion Upside Down Cornbread. Once you try it, you'll be hooked!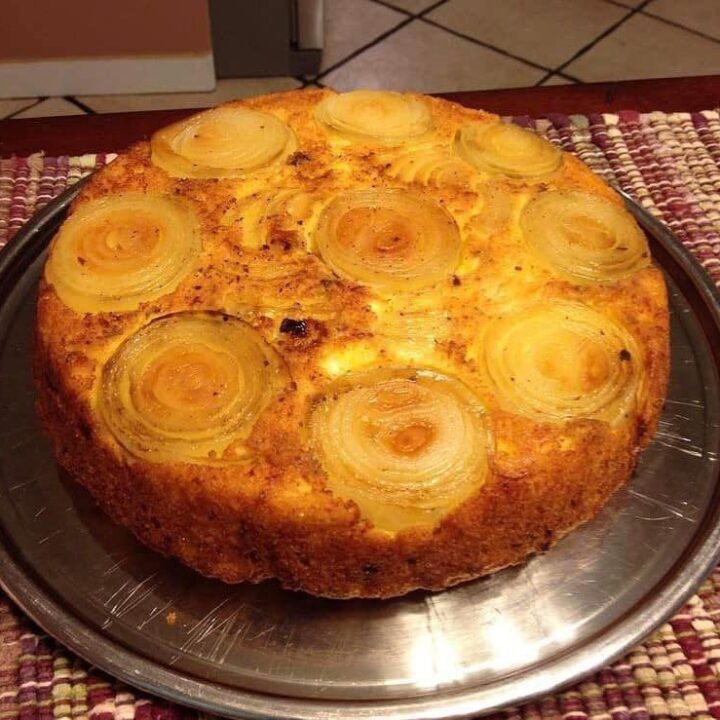 Vidalia Upside Down Cornbread
Ingredients
1 stick butter, melted 3 large vidalia onion, sliced 1/2 inch thick (or enough to cover the bottom of the pan) 3 (8 ounce) packages cornbread mix 3 egg, beaten 1 cup whole milk 1 cup sour cream 1 1/2 cups grated sharp cheddar cheese 1/4 teaspoon salt
Instructions
Preheat the oven to 400 degrees F.
In a 13x9 pan, add melted butter and onion slices. Bake for 10 minutes. In a large bowl, combine the cornbread mix, egg, milk, sour cream, cheese, and salt. Remove the onions from the oven and add the cornbread mix over the top. Bake for 30 minutes, until set and a toothpick inserted into the center of the cornbread comes out clean. Loosen the edges with a knife and invert on a serving plate. Allow to cool slightly before cutting into squares.
Nutrition Information:
Amount Per Serving:
Calories:

0
Total Fat:

0g
Saturated Fat:

0g
Trans Fat:

0g
Unsaturated Fat:

0g
Cholesterol:

0mg
Sodium:

0mg
Carbohydrates:

0g
Fiber:

0g
Sugar:

0g
Protein:

0g
[inline_related_posts title="OTHER RECIPES YOU MIGHT ENJOY" title_align="left" style="list" number="4″ align="none" ids="" by="categories" orderby="rand" order="DESC" hide_thumb="no" thumb_right="no" views="no" date="yes" grid_columns="2″ post_type="" tax=""]