I love making this casserole because it makes weekend mornings more relaxing and feels like a special treat. If I prepare it the night before, I can avoid spending time in the kitchen making pancakes, waffles, or omelets. Instead, I can simply pop it in the oven and sit down to enjoy my coffee, almost feeling like I'm on vacation, which makes the dish taste extraordinarily delicious!
When my daughter moved out, she often came over on Saturdays to spend family time with us. To make the mornings special, I would prepare two casseroles, sending one home with her. She absolutely loved this homemade breakfast because it was comforting and made with love. It brought me peace of mind, knowing that she had delicious homemade food to enjoy, which helped me worry about her less.
This casserole is not only perfect for enjoying at home but also great for taking to brunches, early morning meetings, or when hosting sleepovers for your kids and their friends who are always ready for a hearty breakfast.
So, whether it's a relaxing weekend treat or a thoughtful gesture to share with loved ones, this casserole is sure to bring joy and satisfaction to your breakfast table. Enjoy!
Notes
• Make Ahead: Make the casserole up to one day before you plan to bake, wrap with plastic, and refrigerate. You may need to increase baking time about 10-15 minutes.
• Cheese: Cheddar is delicious, but Colby, Monterey Jack, and Colby Jack work very well in this recipe. Choose your favorite cheese that melts well! For the best melted cheese, shred your cheese from a block.
• Additions: The cayenne pepper is optional but if you want a bit more spice, red pepper flakes or a few dashes of your favorite hot sauce add an extra kick.
• Hash Browns: I have substituted with tater tots, and it is great (my kids' favorite version!) Also, you can dice fresh potatoes if you do not have hash browns.
• Milk/Half and Half: I like to use Half and Half because it gives it an extra richness. Another idea is substituting sour cream in place of the milk – it works great and imparts a deeper flavor.
• Storing: Cool completely and place in airtight container. Keep in fridge for up to 4 days. Making individual portions makes for extremely easy breakfasts!
• Freezing: Once cooled, either divide into individual servings in freezer containers or transfer it to an airtight container. Completely wrap using two layers of foil and freeze the baked and fully cooled casserole for up to 2 months.
• Reheating: Place the casserole in a baking dish and bake in a preheated oven at 350° F until hot.
Conclusion:
The Bacon Egg and Hash Brown Casserole is the ultimate recipe for a lazy weekend breakfast that is both indulgent and comforting. Its easy preparation allows for a relaxing morning, and the option to make it ahead of time makes it a special treat without the hassle of cooking individual breakfast items. The satisfaction of enjoying this homemade casserole is akin to being on vacation, adding an extra touch of delight to every bite.
Beyond its deliciousness, this casserole holds sentimental value, as it became a tradition for family time when my daughter moved out. Sharing it with her on Saturdays brought joy to both of us, knowing she had a comforting and homemade meal to enjoy. It's a recipe that brings families together, creating cherished memories around the breakfast table.
With its versatility, this casserole is perfect for a cozy breakfast at home, taking to brunch gatherings, or feeding a hungry crowd during sleepovers or early morning meetings. Its hearty and flavorful combination of bacon, eggs, and hash browns ensures everyone's hunger is satisfied, leaving smiles on their faces.
So, whether you're looking to unwind on a lazy weekend morning or share a delightful breakfast with loved ones, the Bacon Egg and Hash Brown Casserole is the perfect recipe to bring comfort and joy to your breakfast routine. Enjoy this delicious casserole and savor the special moments it creates with your family and friends.
Print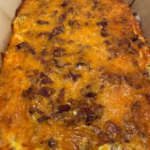 Bacon Egg and Hash Brown Casserole for a Lazy Weekend Breakfast
---
1 (30 oz.) package frozen shredded hashbrowns – thawed
½ lb. bacon – cooked crispy and crumbled
8 eggs
½ cup whole milk or Half and Half
½ tsp. salt
½ tsp. onion powder
¼ tsp. garlic powder
¼ tsp. pepper
Pinch of cayenne pepper
8 oz. shredded cheddar cheese
Chopped green onions for garnish, optional
---
Instructions
Preheat oven to 350° F. Lightly grease a 9×13 baking dish with butter.
Spread hashbrowns in an even layer in the bottom of the prepared pan.
In a large bowl, whisk together eggs, milk, salt, onion powder, garlic powder, pepper, and cayenne. Pour over hashbrowns.
Sprinkle with half of the cheese, all the bacon, then the remaining cheese.
Cover tightly with foil.
Bake for 1 hour, then remove foil and bake for another 5-10 minutes, or until center is set and a knife inserted in the casserole comes out clean.
Let stand 5-10 minutes before serving.
Garnish with chopped green onions, if desired.