A copycat restaurant recipe for Bang Bang Shrimp.
Breaded shrimp fried up all golden and crunchy then smothered in a spicy sauce and served over greens. It's all the rage.
Having never been to Bonefish Grill where the shrimp originates I wouldn't know.
Leading me to this. . .I have a seriously bad habit of recreating restaurant food I've never even eaten. When I say bad habit what I really mean is I. Can't. Stop.
Not in the same bad-habit-way eating an entire batch of cookies (which I definitely don't do) would be while watching marathon seasons of Sons of Anarchy (which strangely enough I do and can't stop – season #2 here I come) when you've never ever been on a motorcycle before and have no intentions of ever doing so.
I'm a scaredy-cat, you know.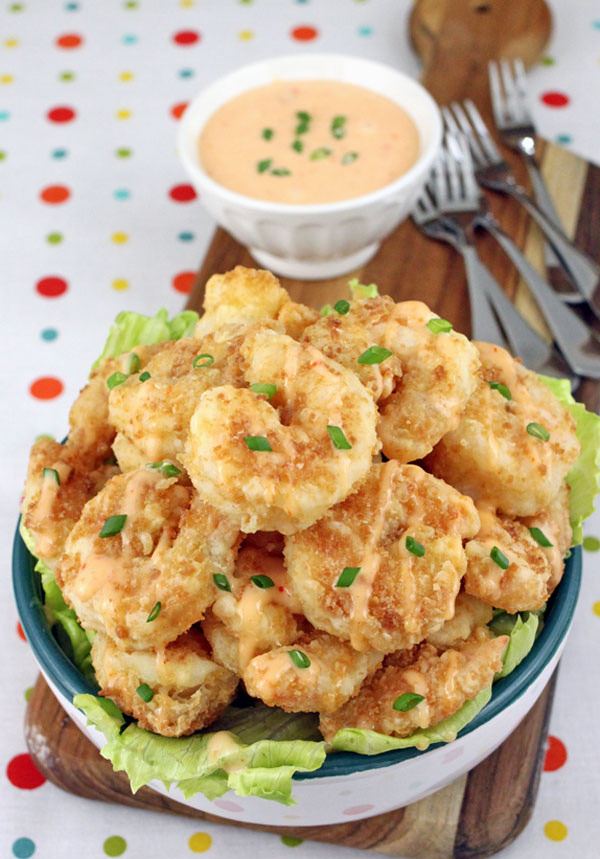 What's different about this time is I used someone else's recipe instead of creating my own because I was soooo busy. My eyes glued to the tv screen, perched on the edge of my rose-pink-loveseat-busy. True story.
Apparently, I need to tear myself away from the tv and this exciting, danger-filled outlaw life I can't get enough of and get myself down to the Bonefish Grill because these things are better than any and all of that. Cookies included.
Remember it later
Like this recipe! Pin it to your favorite board NOW!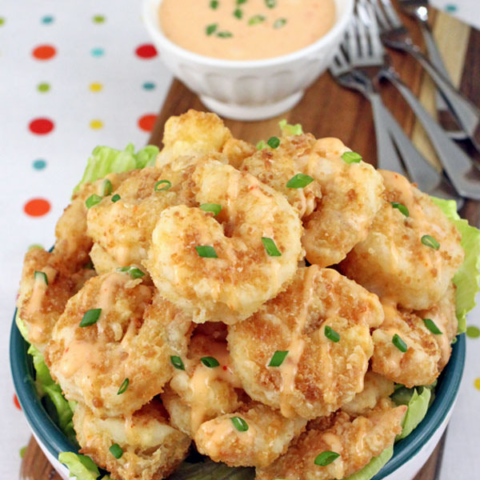 Bonefish Grill's Bang Bang Shrimp
Yield:
serves 2 - 4 as an appetizer
A copycat restaurant recipe for spicy, crunchy Bang Bang Shrimp. They make great appetizers, party or game day snacks!
Ingredients
Sauce:
½ cup mayonnaise
1 - 2 tablespoons hot sauce
1/3 cup sweet chili sauce
1 teaspoon rice vinegar
Breading:
1/2 cup cornstarch
2 eggs, beaten with 2 tablespoons water
3/4 cup all-purpose flour
½ cup panko breadcrumbs
1 teaspoon coarse salt or 1/2 teaspoon table salt
½ teaspoon ground black pepper
¼ teaspoon onion powder
¼ teaspoon garlic powder
oil for deep frying - vegetable, coconut or canola
1 pound medium shrimp, peeled and deveined
Garnish:
1 handful of mixed greens
1 green onion, snipped with kitchen shears (green part only)
Instructions
Make the Sauce:
In a small bowl whisk the sauce ingredients together. Cover and refrigerate.
Set up the dredging station:
Add the cornstarch to a shallow bowl or plate and beat the eggs together in another. In a separate, wide shallow bowl or plate whisk together the flour, panko, salt, pepper and all the spices.
Bread the shrimp:
One at a time coat the shrimp with the cornstarch then dip in the egg allowing excess to drip off then coat with the bread crumb mixture patting on with your hands if needed. Set them on a platter or cutting board and refrigerate 20 minutes.
To Cook:
Heat 1 - 2 inches of oil in a Dutch oven or in a big heavy-bottomed saucepan to 350 degrees F.
Fry the shrimp in batches for 3 to 4 minutes or until golden brown. Drain on a wire rack or paper-towel lined plate.
When all of the shrimp are fried add set the greens on a platter, top with the shrimp and drizzle with the sauce or serve it on the side for dipping. Garnish with green onions.
Nutrition Information:
Amount Per Serving:
Calories:

0
Total Fat:

0g
Saturated Fat:

0g
Trans Fat:

0g
Unsaturated Fat:

0g
Cholesterol:

0mg
Sodium:

0mg
Carbohydrates:

0g
Fiber:

0g
Sugar:

0g
Protein:

0g
Remember it later
Like this recipe! Pin it to your favorite board NOW!