Thick and chunky chili with chicken, black beans and corn made even better with the addition of rich and spicy enchilada sauce. Chili meets enchiladas and they live happily ever after.
There's no need to add any chili powder or other spices because the enchilada sauce takes care of that for you. The extra boost of flavor is unforgettable. I don't know how I'll ever make chili without it again. . .
Bite-sized pieces of chicken breast are cooked first followed by onion, bell pepper and garlic then everything else is added in: diced tomatoes, the enchilada sauce, black beans and corn. To save time you can use a rotisserie chicken.
After a quick 1/2 hour simmer you can serve up some of the most delicious chicken chili ever! Top with shredded cheese, a dollop of sour cream and a handful of chips for dunking, dipping and scooping to your heart's content.
Stick-to-your-ribs, spicy cheesy comfort food. That's the best.
It is the season for it, after all.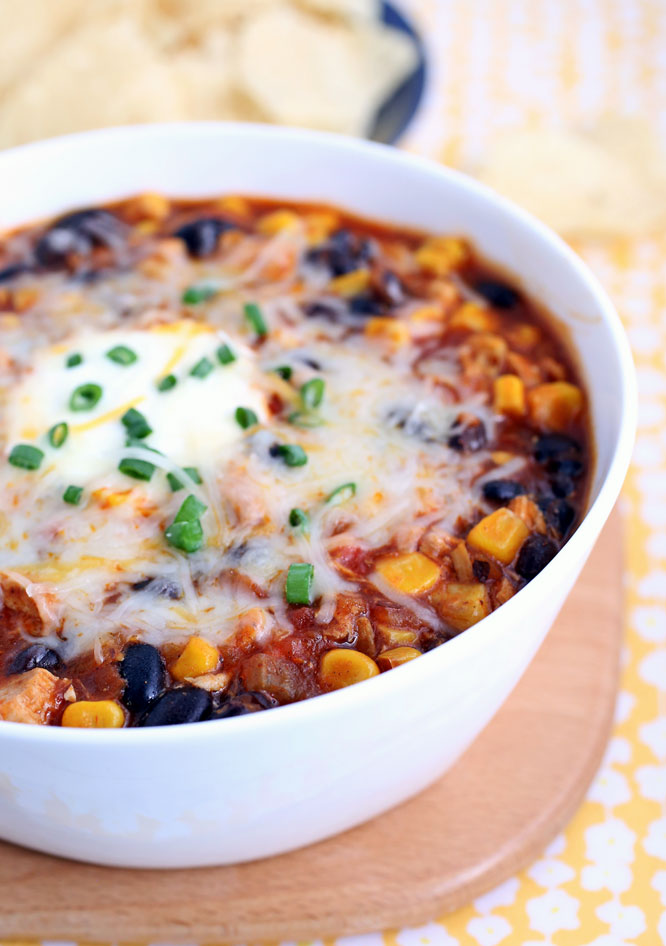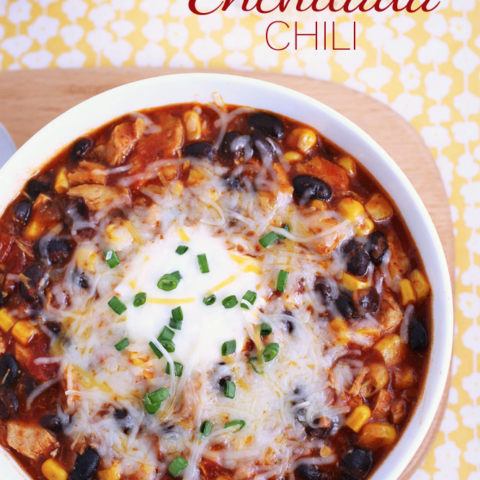 Chicken Enchilada Chili
Ingredients
1 + ¼ pounds boneless chicken breasts (or 2 - 3 cups cooked)
sea or kosher salt and fresh black pepper
2 tablespoons olive oil, divided
½ cup diced red or yellow onion
⅓ cup diced bell pepper
1 clove minced garlic
½ teaspoon dried oregano
1 can (14 ounces) petite diced tomatoes
1 can (15 ounces) enchilada sauce
1 can (14 ounces) black beans, drained and rinsed
1 + ½ cups corn
For Serving:
sour cream
shredded sharp cheddar or pepper jack
tortilla chips
Instructions
Cut the chicken into bite-sized pieces and season well with salt and pepper.
In a Dutch oven or large heavy-duty saucepan heat the oil over medium heat. Add the chicken and turn every 2 - 3 minutes to cook on all sides. Remove to a plate and cover with foil.
Add the remaining tablespoon oil to the pan and saute the onion, pepper and garlic with a few dashes salt and pepper. Cook until soft, stirring often about 7 - 8 minutes.
Add the chicken back to the pan with the oregano and toss with the veggies.
Stir in the tomatoes, enchilada sauce, black beans and corn with ¼ teaspoon salt and ⅛ teaspoon black pepper.
Bring to a slow simmer and cook 30 minutes, stirring often. Taste and season with more salt and pepper as needed.
Serve with a sprinkle of cheese, a dollop of sour cream and a handful of chips for scooping and dunking.
Nutrition Information:
Amount Per Serving:
Calories:

0
Total Fat:

0g
Saturated Fat:

0g
Trans Fat:

0g
Unsaturated Fat:

0g
Cholesterol:

0mg
Sodium:

0mg
Carbohydrates:

0g
Fiber:

0g
Sugar:

0g
Protein:

0g