Boneless chicken breasts are topped with gooey Swiss cheese on a bed of thinly sliced onions in this crock-pot French onion chicken recipe.
The crock-pot does all the work of coaxing the onions into a caramelized state, a task that would take at least 30 minutes on the stove top while you babysit them the entire time, maybe longer.
If you never had a caramelized onion before then you are sincerely missing out on something special and you absolutely have to make this.
Thinly-sliced yellow onions are mixed with melted butter, Dijon, Worcestershire, a touch of sugar, salt and pepper plus a little flour to help thicken the flavorful juices that come out of them as they cook so you can spoon it over the chicken.
Slow-cooking the chicken causes it to be so tender you can slice through it with a fork. Just like butter.
Get this in your crock-pot in the morning and sit down later to one of the easiest, most comforting and delicious meals ever.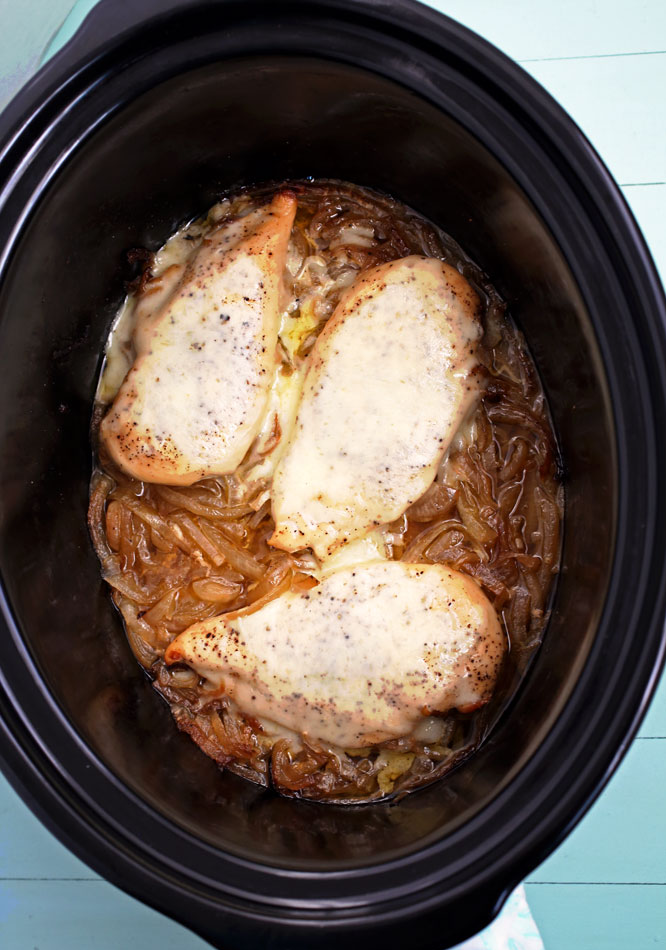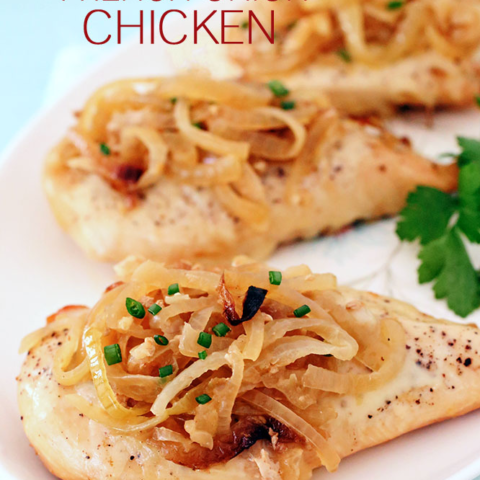 Slow Cooker French Onion Chicken
Total Time:
7 hours
15 minutes
Ingredients
6 cups sliced (about ⅓-inch wide) yellow onions (about 1 pound)
2 tablespoons melted butter
1 tablespoon Worcestershire sauce
1 rounded teaspoon Dijon mustard
1 tablespoon all-purpose flour
1 teaspoon sugar
1 teaspoon fresh thyme leaves or ¼ teaspoon dried
sea or kosher salt and fresh black pepper
3 - 4 boneless chicken breasts
1 + ⅓ cups shredded Swiss cheese or 3 - 4 thick slices
Instructions
Spray a 4 or 5 quart crock-pot with non-stick spray. Add the onions.
In a small bowl whisk together the butter, Worcestershire, Dijon, flour, sugar, thyme and ½ teaspoon salt plus ¼ teaspoon black pepper.
Pour it over the onions and toss to coat.
Place the chicken breasts on top of the onions. Season well with salt and pepper.
Cook on low 5 - 7 hours or high 3 - 4.
Top the chicken with the cheese and put the lid on to melt.
To serve place the chicken breasts on a platter and top with the onions. Ladle the juice over them.
Nutrition Information:
Amount Per Serving:
Calories:

0
Total Fat:

0g
Saturated Fat:

0g
Trans Fat:

0g
Unsaturated Fat:

0g
Cholesterol:

0mg
Sodium:

0mg
Carbohydrates:

0g
Fiber:

0g
Sugar:

0g
Protein:

0g