Several weeks ago I went to a restaurant and had an excellent cucumber salad. Of course, I had taken it before, but I had forgotten how good it was.
I decided to make one myself and I was not disappointed, it was delicious! This salad only takes a few minutes to prepare and you can store it in the refrigerator for several months.
Once your salad is dry, cut the leaves into small pieces, then place them in a glass jar with an airtight lid and place the jar in the fridge. With this trick, your salad will keep for a month in the fridge.
There you go, your pickled cucumber salad is already ready 🙂 The advantage of this salad is that it can be stored in the fridge for several months.
You can use green, yellow or red peppers. The more colors you add, the better your salad will look. You don't have to put this salad in a jar. You can put it directly in a salad bowl and let it cool before serving.
Print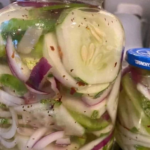 THIS IS INCREDIBLE YUMMY SUMMER SALAD & CAN STAY IN FRIDGE UP TO 2 MONTHS.
---
4 thinly sliced cucumbers
1-large sliced red onions
1-large sliced green bell peppers
1-tbsp salt
2-cup white vinegar
1 1/2-cups sugar
1-tsp celery flakes
1-tsp red pepper flakes
---
Instructions
Mix cucumbers, onions, peppers and salt; set a side.
Put vinegar, sugar, celery flakes and pepper flakes in a pot and bring to a boil. Remove from heat and add 2 handfuls of ice until melted.
Place all veggies in large mouth canning jars (2 quarts or 1 half gallon jar)
Pour mixture over cucumbers, store in refrigerator.
Will keep up to 2 months
Makes 2 quart jars