​
This has to be the most perfect summer dessert! A dense, moist cake topped with a jammy layer of lemon-infused blueberries for the win.
The cake is easy to make using basic ingredients including butter, sugar, eggs, vanilla, flour, baking powder and salt. For such basic ingredients it is really one of the most delicious cakes I ever tasted – it practically melts in your mouth.
Everyone I know is crazy for it. So much so that I made it three times in two weeks. Each time disappearing in record time amidst squeals of joy.
The blueberries – fresh or frozen – are baked on the bottom with a simple brown sugar glaze that is topped with the thick, buttery cake batter. The cake is turned out of the pan while still hot – otherwise it will stick – so the blueberries wind up on top.
You can use frozen blueberries if you don't have fresh on hand and I suspect any type of berry would be delicious. I'm eyeing strawberries for my next one.
Don't forget the whipped cream! It's absolutely positively necessary.
A big dollop on top and you're ready to eat your way to heaven.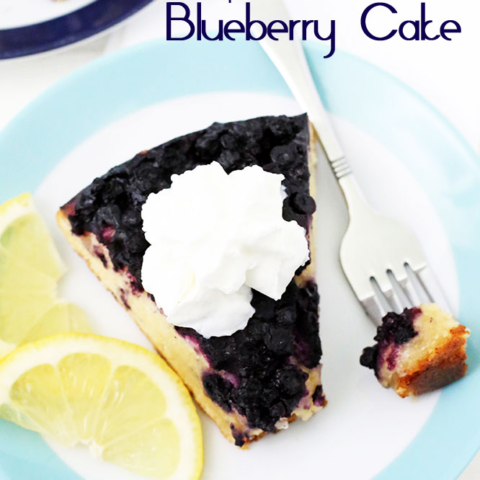 Upside-Down Lemon Blueberry Cake
Ingredients
For the topping:
3 tablespoons unsalted butter
¼ cup brown sugar
1 teaspoon lemon zest (just the yellow part not the white pith)
3 cups fresh or frozen(unthawed) blueberries (I used Wild Maine blueberries)
For the cake:
12 tablespoons unsalted butter, at room temperature
¾ cup sugar
2 cups all-purpose flour
1 teaspoon baking powder
¾ teaspoon salt
2 eggs
2 teaspoons vanilla extract
For serving:
Instructions
Preheat the oven to 350°F. Place a baking sheet on the bottom rack to catch any bubbly fruit drips. Butter a 9-inch round pan.
Melt the butter and brown sugar together over low heat. Remove from the burner and cool. When it's cooled off stir in the lemon zest.
In the bowl of a stand mixer cream the butter and sugar together on medium speed 3 minutes.
In a medium bowl whisk together the flour, baking powder and salt.
Beat in the eggs one at a time, scraping down the bowl after each one. Beat in the vanilla extract.
Add the flour mixture all at once and beat on low speed just until combined - the mixture will be thick.
Spoon the glaze over the bottom. Top with the blueberries spreading them evenly from edge to edge.
Spoon the cake batter over the blueberries and spread out evenly from edge to edge.
Bake 30 - 40 minutes until a toothpick comes out clean from the center.
Let the cake cool 5 - 10 minutes.
Run a knife around the edges of the pan and then carefully turn the cake out onto a platter or cake dish.
Cool completely. Serve with whipped cream. Refrigerate leftovers.
Nutrition Information:
Amount Per Serving:
Calories:

0
Total Fat:

0g
Saturated Fat:

0g
Trans Fat:

0g
Unsaturated Fat:

0g
Cholesterol:

0mg
Sodium:

0mg
Carbohydrates:

0g
Fiber:

0g
Sugar:

0g
Protein:

0g