Each member of my family has their preferred version of chocolate chip cookie. My son will only eat the classic version and nothing else – he is a purist! The rest of us are more willing to try new versions because, well . . . why not?! There is something magical about chocolate chip cookies whether it is the classic, your personal favorite, or a fun new variation.
I usually have a bottle of Bailys Irish Cream on hand but liquor stores usually carry mini bottles if you don't want to buy a big bottle. These cookies are fantastic and are completely appropriate any time of year – although I do encourage making a batch for St. Patrick's Day!
If you prefer to make these without any alcohol, check the Notes at the bottom for a couple of ideas!
Notes:
* If you prefer smaller cookies, make the dough balls half of the size described in the directions. Make sure you leave space between each on the baking sheet because they will still spread. If you chill the dough, the cookies will still be thicker and chewier, just smaller. If you bake without chilling the dough, the cookies will still spread out more and be thinner. Smaller cookies may require less bake time so start checking on them around 8 minutes. Remember you are looking for a golden-brown color and the center will still be soft.
* Unless you cannot have butter, it is important to use real butter in these cookies for the best flavor and texture. The recipe also calls for unsalted butter but if you only have salted butter just cut back the salt you add. I only buy salted butter and I just use less salt.
Notes on alcohol and non-alcoholic substitutions
* During the baking process, not all the alcohol evaporates from these cookies. A common misconception is that all alcohol evaporates from foods that when heated. However, there is a time element to consider, and cookies are not in the oven long enough for all the alcohol to evaporate.
Options for making these cookies without any alcohol
1. Substitute the Irish Cream Whiskey with an Irish Cream flavored coffee creamer. International Delight offers this flavor but there may be other brands at your local stores.
2. Substitute half-n-half or cream for the Irish Cream Whiskey and use Baileys Irish Cream Baking Chips in place of regular chocolate chips.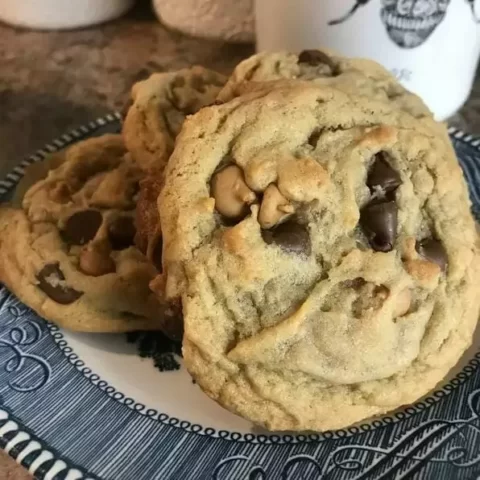 Baileys Irish Cream Chocolate Chip Cookies
Ingredients
2 1/2 cups all-purpose flour
3/4 tsp. salt
1 tsp. baking soda
1/2 tsp. ground cinnamon
1 1/2 tsp. espresso powder
2 sticks (1 cup) unsalted butter, at room temperature
1 cup dark brown sugar, packed
1/2 cup granulated sugar
1 1/2 tsp. vanilla extract
3 Tbsp. Irish Cream Liqueur (I use Baileys because that is what we keep on hand)
2 large eggs, at room temperature
12 ounces semi-sweet chocolate chips
Instructions
In a large bowl combine flour, salt, baking soda, cinnamon, and espresso powder; whisk well to combine then set aside.
In a separate large bowl, using a handheld electric mixer (or in the bowl of a stand mixer fitted with the paddle attachment) combine butter, dark brown sugar, and granulated sugar on medium-speed. Beat until light and fluffy – about 2 minutes and scrape the sides and bottom of the bowl as needed.
Add the vanilla extract and Irish Cream Liqueur – beat until combined.
One at a time, beat in the eggs – after adding each egg, beat for about 15 seconds to fully incorporate the egg. Turn the mixer off.
Using a wooden spoon or sturdy rubber spatula, gently fold the flour mixture into the wet ingredients, stirring only until the flour begins to disappear. Do not over mix.
Gently fold in the chocolate chips.
Cover the bowl and chill the dough for at least 2 hours before baking (if you do not need the cookies for a couple of days and are making the dough early, the dough will keep in the refrigerator up to 3 days). Refrigerating the dough prior to baking helps keep the cookies thicker and chewier.
If you do not have time to wait for the dough to chill, or if you prefer a thinner cookie, proceed to the next step – "When you are ready to Bake the Cookies!"
When you're ready to Bake the Cookies!
Preheat oven to 375 degrees (F) – Line two large baking sheets with parchment paper and set aside.
** If the dough is in the refrigerator, set it on a counter for 5-10 minutes before forming dough balls.
Scoop about 3 tablespoon of dough and roll it between your palms to form a large ball (about 1/4 cup), then place on prepared sheets (make sure to leave enough room in between each cookie for inevitable spreading). Continue this process until you have shaped all the dough.
Place baking sheets in preheated oven, one at a time, and bake for 10 to 12 minutes – the edges should be golden brown and the center soft. Be careful not to overbake the cookies.
After removing from the oven, let the cookies cool on the baking sheet for 15 minutes before transferring the cookies to a cooling rack.
Nutrition Information:
Amount Per Serving:
Calories:

0
Total Fat:

0g
Saturated Fat:

0g
Trans Fat:

0g
Unsaturated Fat:

0g
Cholesterol:

0mg
Sodium:

0mg
Carbohydrates:

0g
Fiber:

0g
Sugar:

0g
Protein:

0g