the Frozen S'mores – a delightful frozen indulgence that brings a cooling touch to the nostalgic flavors we adore. Imagine a symphony of chocolate pudding, fluffy whipped topping, a touch of cream cheese, and that delightful marshmallow fluff, all harmoniously layered between graham crackers. It's a frosty twist on a beloved classic, perfect for someone who's seen a few summers!
Now, turning a beloved warm and gooey summer favorite into a chilly and revitalizing delight truly speaks of innovation. This recipe for frozen s'mores is a delightful departure from the traditional, much like our inventive takes on s'mores popcorn and s'mores cookies.
Exploring the myriad ways to reimagine this timeless dessert in playful and imaginative forms has become a personal mission of mine. You can trust that I'll leave no stone unturned in my quest to discover these delightful variations and present them to you!
As for these frozen s'mores squares, they're a masterpiece of layers. Picture luscious layers of velvety, fudgy chocolate and velvety marshmallow goodness nestled between two layers of those enchantingly golden graham crackers. Once frozen, they're artfully sliced and served, just like a superb portable frozen dessert, akin to the classic ice cream sandwich experience. It's a treat that brings a dash of summer joy, perfect for indulging in the simple pleasures of life.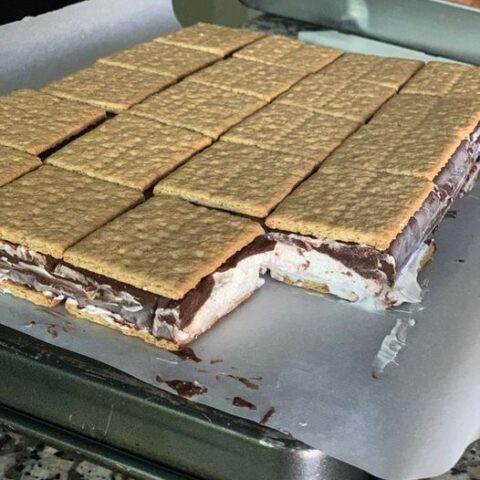 S'mores Ice Cream Sandwiches
Ingredients
32 Graham cracker squares
1Large box of instant chocolate pudding, 6 servings
2 ½C.Milk
7oz.Marshmallow creme
8oz.Container thawed Cool Whip
4oz.Softened cream cheese
Instructions
Place the instant chocolate pudding and the milk into a large mixing bowl, and whisk to combine until smooth. Let set for 5 minutes.
Line the bottom of a 9×13 baking dish with aluminum foil or parchment paper.
Layer the chocolate pudding evenly in the bottom of the baking dish.
Combine the cream cheese and marshmallow creme in a mixing bowl, beating on high until creamy and well incorporated.
Fold the cool whip into the cream cheese mixture.
Spread the mixture over the chocolate layer in the baking dish.
Place the mixture into the freezer to set for a minimum of 6 hours.
Slice the mixture into 16 squares and place each square between two graham crackers before serving.
Nutrition Information:
Amount Per Serving:
Calories:

0
Total Fat:

0g
Saturated Fat:

0g
Trans Fat:

0g
Unsaturated Fat:

0g
Cholesterol:

0mg
Sodium:

0mg
Carbohydrates:

0g
Fiber:

0g
Sugar:

0g
Protein:

0g