Embrace your sweet tooth with these irresistibly decadent Chocolate Toffee Thumbprints! They're the perfect combination of a rich chocolate cookie, gooey toffee center, and a touch of sea salt for balance. Let's whip up a batch!
Toffee chips are speckled all through these chocolate thumbprint cookies with fudge ganache centers. They're called thumbprints because you press your thumb into them to make a well for filling.
These little bites of decadence deserve a place on your holiday cookie platters! If they can last long enough after you bake them. They're bursting with toffee flavor and the candy-like centers make them hard to resist.
The chocolate toffee dough is formed into balls first, the well is pressed out and then they're chilled for a short time before baking. Chilling helps them keep their shape, though you may have to gently press the centers again when they come out of the oven. Not with your thumb this time. You can use the end of a wooden spoon or ice cream scoop.
The filling, a cross between a ganache and frosting, is spooned in later, after they've cooled off. It sets up well enough that you can stack them but stays fairly soft. It's made with chocolate chips, heavy cream, a little butter and confectioners' sugar.
This is the same high protein flour used by professional bakers and produces high, well-textured loaves of bread equally as well as it produces light, airy baked goods. It's freshly milled from organic hard red wheat and both the bran and the germ have been removed leaving the endosperm that is made into white flour.
It isn't enriched with any additives. I love that. This kitchen staple is incredibly versatile and perfect for all of your baking needs.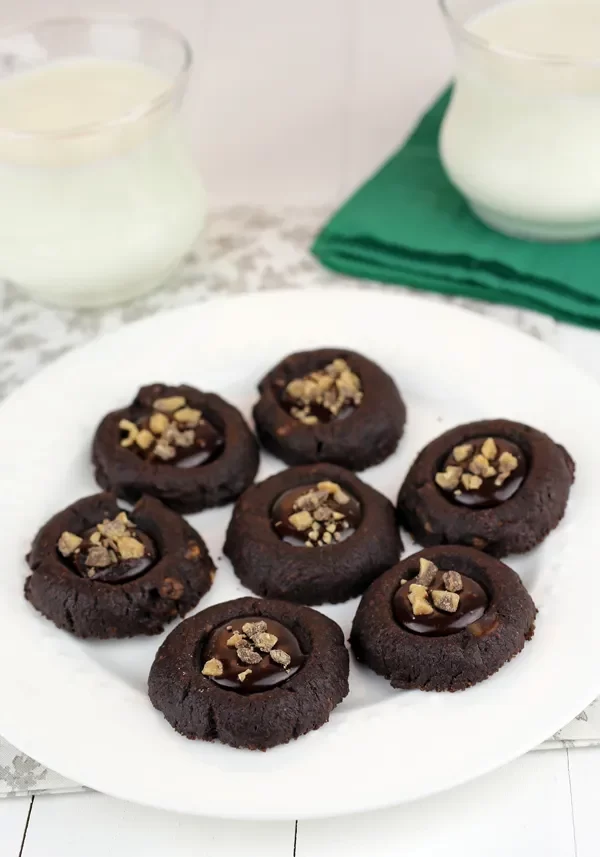 Can I use a different type of chocolate for the filling?
Absolutely! While the recipe calls for semisweet chocolate chips, you can certainly use dark or milk chocolate chips based on your preference. Just keep in mind that different types of chocolate can alter the sweetness of the filling.
What can I use instead of toffee bits?
If you don't have toffee bits or want to try something different, you can use crushed nuts, like almonds or pecans. They add a nice crunch and balance the sweetness of the chocolate.
 Can I make these cookies gluten-free?
Yes, you can substitute the all-purpose flour with a gluten-free flour blend. Just be sure to look for a blend that's intended for baking, as it will likely have a mix of flours and starches that will work best.
 How should I store these cookies?
Once the chocolate filling has set, you can store these cookies in an airtight container at room temperature for up to a week. For longer storage, you can freeze them for up to three months. Just be sure to let them defrost at room temperature before serving.
 My cookies spread out while baking. What did I do wrong?
If your cookies spread out too much during baking, it could be that your butter was too soft when you started, or your oven might not have been fully preheated. Next time, try chilling the dough balls for about 15 minutes before baking and make sure your oven reaches the right temperature.
Print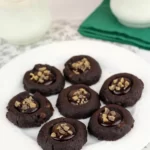 CHOCOLATE TOFFEE THUMBPRINT
---
Author:

Total Time:

49 minutes

Yield:

about

5

+

½

dozen cookies

1

x
Description
Toffee chips are speckled all through these chocolate thumbprint cookies with fudge ganache centers.
---
2 cups Bob's Red Mill Organic Unbleached All-purpose Flour
½ cup unsweetened Dutch-process cocoa powder
½ teaspoon salt
1 (8 ounce) bag milk chocolate toffee bits, divided
1 cup + 1 tablespoon butter, at room temperature
1 cup sugar
1 large egg, at room temperature
1 teaspoon vanilla extract
Filling:
4 ounces semi-sweet chocolate chips
1 tablespoon butter, softened
⅓ cup heavy cream
½ cup sifted confectioners' sugar
---
Instructions
Whisk the flour, cocoa, and salt together in a medium bowl. Add 1 cup of the toffee chips and toss with the flour mixture.
In a separate large bowl beat the butter and granulated sugar together on medium speed about 2 minutes. Scrape down the sides of the bowl.
Beat in the egg and vanilla.
Add the flour mixture and mix with a spoon, once it thickens up you can gently knead it to evenly disperse the toffee chips.
Roll the dough into 1-inch balls and place on a large parchment lined baking sheet. Use your thumb or the end of a wooden spoon or ice cream scoop to press a well into the center of each one.
Refrigerate the cookies at least 30 minutes.
Preheat the oven to 350 degrees F. Line a baking sheet or two with silpats or parchment and set cookies on it an inch apart (return the remaining unbaked cookies back to the fridge).
Bake 8 – 9 minutes. Press the end of a wooden spoon or cookie scoop into the well in the center again, if needed.
Cool completely on the baking sheet then transfer to wire racks. Repeat until all the cookies are baked.
Place the chocolate chips and butter in a small heat-proof bowl.
Heat the heavy cream in a small saucepan over medium – high heat, stirring often, until it comes to a boil.
Pour over the chocolate chips and cover the bowl tightly with aluminum foil. Let it sit five minutes.
Whisk until the chocolate is completely melted and smooth.
Add the sugar and whisk until smooth and creamy.
Spoon into the wells of the cookies and sprinkle with the remaining toffee chips. Let set about 1 hour.
Store well covered in a cool, dry place up to 1 week.
Prep Time:

40 mins

Cook Time:

9 mins

Category:

DESSERT

Cuisine:

American
Keywords: CHOCOLATE TOFFEE THUMBPRINT
[inline_related_posts title="CHECK OUT THESE AWESOME, EASY RECIPES:" title_align="left" style="list" number="4″ align="none" ids="" by="categories" orderby="rand" order="DESC" hide_thumb="no" thumb_right="no" views="no" date="yes" grid_columns="2″ post_type="" tax=""]