I have always had a deep affection for soup, and making it is a true passion of mine. Even from a young age, I would experiment with various ingredients to create my own soup recipes, turning it into a delightful and fun culinary adventure. The beauty of soup lies in its forgiving nature, allowing you to tweak the recipe or substitute vegetables, providing endless opportunities to unleash creativity in the kitchen.
One of the things that I adore about soup is its versatility, offering a wide array of options for every season, mood, or craving. Whether it's a hearty stew to warm up chilly winter nights or a refreshing gazpacho to cool off during the summer, there's always a perfect soup to satisfy any culinary desire. My recipe collection is a testament to my love for soup, with a dedicated section featuring subsections to group various soup recipes. The one featured here has rightfully earned its spot in the "chilly weather" section.
Selecting a single soup that pleases everyone can be a challenge, but this particular recipe manages to receive the approval of my kids—an impressive feat indeed! Not only does it win over their taste buds, but it also brings a smile to my face knowing that it's easy to make and leaves everyone at the table content and happy.
So, I invite you to enjoy the enchanting world of soup-making and savor the boundless possibilities it offers. Embrace the joy of experimentation and creativity in crafting your own soups, and let this delightful recipe be an inspiration to fill your kitchen with warmth and love. There's no doubt that a comforting and flavorful bowl of soup has the power to nourish the body and soul, bringing joy to every mealtime.
Notes:
* If you prefer a thinner soup, add more broth a little at a time until desired consistency. Do this at the end of the cooking.
* You can add toppings if you wish. Crumbled bacon, chives, jalapeños, and diced tomato make great additions.
* Russet potatoes are the best to use in this recipe because they partially fall apart giving the soup a little thicker texture but still having chunks. Don't use red potatoes because they will remain in one piece and will not add any starch to the soup thus not offering any thickening power.
* Ground chicken or turkey works just as well as ground beef.
Conclusion:
Creamy Potato & Hamburger Soup is a true gem in the realm of comforting and hearty soups. This delightful recipe brings together the velvety richness of creamy potatoes and the savory goodness of hamburger, creating a culinary experience that warms the heart and satisfies the soul.
As a lover of soup-making, I have found this recipe to be a delightful addition to my collection. Its forgiving nature allows for creative tweaks and substitutions, making it a canvas for culinary experimentation and personalization. With a dedicated section in my recipe collection for soups, this one proudly earned its spot as a go-to choice for chilly weather days.
One of the most enchanting aspects of soup-making is the diverse array of options available for different seasons, moods, and cravings. Creamy Potato & Hamburger Soup finds its place perfectly in the chilly weather section, offering a comforting and soul-soothing option for those cold days.
Beyond its delectable flavor, this soup holds a special place in my heart because it brings everyone to the table with smiles of approval. Even the pickiest eaters, like my kids, wholeheartedly enjoy this soup—a feat that is sometimes hard to achieve. The ease of preparation and the ability to please all members of the family make it a true winner in my kitchen.
So, as you embark on your own culinary journey, I encourage you to savor the beauty of Creamy Potato & Hamburger Soup and its power to nourish not only the body but also the soul. Let its creamy and flavorful embrace warm your heart and create cherished memories with your loved ones. Embrace the opportunity to be creative, experiment with ingredients, and make this soup your very own. In the end, it's not just a soup—it's a heartwarming experience that brings joy, comfort, and contentment with every delightful spoonful.
Print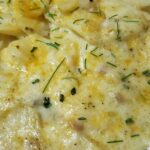 Creamy Potato & Hamburger Soup Made In the Crockpot
---
1 1/2 pounds lean ground beef
1 Tbsp. butter
1 medium white onion peeled and diced
1 large garlic clove minced
6 cups of chicken broth
6 cups of peeled & diced Russet potatoes
2 cups of your favorite frozen vegetable mix
3 tsp. dried basil
2 tsp. dried parsley flakes
1 1/2 cups milk
2 Tbsp. cornstarch
8 ounces Velveeta cheese cubed
1/2 cup sour cream
Salt & Pepper – to taste
---
Instructions
In a large skillet, brown the ground beef with a little salt and pepper. When done, drain the grease and set beef aside.
In a stockpot, add the butter. When the butter is melted, add the onion and cook until soft, add the garlic and cook for about 30 seconds to 1 minute.
Then, add the chicken broth, potatoes, vegetables, basil, parsley, and
return the beef to the stockpot.
Two Methods of Cooking
Stovetop – Simmer the soup until the potatoes are tender and start to dissolve slightly – about 10-12 minutes.
Crockpot – Carefully pour all the contents in the stockpot into the Crockpot. Cook either on low for 6-8 hours, or on high for 3-4 hours.
________________________
When the soup is finished cooking, whisk together the milk and cornstarch, and then whisk the mixture into the soup.
Add the Velveeta and stir occasionally until the Velveeta is melted. The Crockpot can be on low but for the stockpot, remove from heat at this time. Stir in the sour cream until incorporated. Add salt and pepper to taste.