Today's recipe for Shrimp & Teriyaki Steak Noodles is your solution to creating takeaway cuisine in the comfort of your own home! Juicy steak and handmade teriyaki sauce are served over a bed of egg noodles. The shrimp and vegetables are fresh and crisp, and the sauce is delicious. Quick, simple, and tasty takeaway right in the comfort of your own home.
Rice noodles are the best choice for this particular dish. Although, ramen noodles may also be used to make this dish. The rice noodles will naturally contribute to the dish's feeling of lightness, while the ramen noodles will provide additional comfort. You simply can't go wrong with any of these options!
When it comes to shrimp, I usually purchase frozen shrimp since that is what I have access to here in the Northeast United States. Pricey fresh shrimp may be difficult to come by! However, if you come across a fantastic bargain, take advantage of it! I make every effort to get wild-caught, tail-on shrimp wherever possible. Costco has been the most successful place for me to locate this! Although larger shrimp have a more aesthetically attractive appearance, smaller shrimp may still be utilized.
Making teriyaki sauce at home is a pleasure since it's a simple mix of cupboard items that packs a flavorful punch. Another advantage is that you have complete control over what ingredients are used in the sauce. I strongly advise choosing low-sodium soy sauce since salt can always be added, but it cannot be taken away after it has been applied.
FAQ – Frequently Asked Questions:
Q: Can I use a different type of protein instead of shrimp and steak?
A: Absolutely! Feel free to customize the recipe with your preferred proteins. You can substitute the shrimp with chicken, tofu, or even more vegetables for a vegetarian option. For the steak, you can use thinly sliced chicken, pork, or even beef strips like sirloin or ribeye.
Q: Can I make this recipe gluten-free?
A: Yes, you can make this recipe gluten-free by using gluten-free stir-fry noodles and ensuring that your teriyaki sauce and soy sauce are gluten-free. There are many gluten-free options available in stores or you can make your own sauces using gluten-free ingredients.
Q: Can I add more vegetables to this dish?
A: Absolutely! This recipe serves as a great base, and you can easily incorporate additional vegetables like snap peas, carrots, mushrooms, or baby corn. Just make sure to adjust the cooking time accordingly to ensure all the vegetables are cooked to your desired tenderness.
Q: How spicy is this dish?
A: This recipe does not include any spicy ingredients by default. However, if you enjoy a bit of heat, you can add crushed red pepper flakes, sriracha sauce, or sliced chili peppers to the stir-fry for a spicy kick.
Print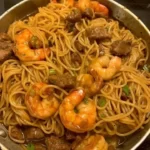 SHRIMP & TERIYAKI STEAK NOODLES
---
2 large spoons.Of extra virgin olive oil.
1 large spoon.Of chopped garlic.
Half a pound of steak.
1½ Cups.Of shredded carrot.
A pound. Of peeled shrimp, you need to de-veined them.
⅓ Cup.Of low-sodium soy sauce
¼ Cup.Of teriyaki sauce
¼ Cup.Of chopped green onion
1 small spoon.Of crushed red pepper flakes.
8-Ounces package. Of noodles, you need to cook them according to package instructions.
---
Instructions
First Step:
Heat the olive oil in a large sauté pan over medium heat until shimmering. Cook in the steak for few minutes, until it is half-cooked, then add in the garlic, and carrot, and sauté for around 5 minutes, just until the vegetables are tender.
Second Step:
Next, In a separate skillet, sauté the shrimp for another 5 minutes, just until the shrimp are just beginning to turn pink.
Third Step:
In a small mixing bowl, whisk together the soy sauce, teriyaki sauce, green onion, and red pepper flakes until well combined and smooth.
Fourth Step:
After that, you can toss the vegetable mixture in the sauce in the sauté pan until they are fully coated. Bring the sauce to a simmer and continue to cook for a couple of minutes to allow it to thicken a little.
Fifth Step:
And to finish, you need to toss in the cooked noodles until they are well coated, serve it warm, and now take pleasure in it!
These Shrimp & Teriyaki Steak Noodles are not only a delicious weekday or weekend dinner, but they can also be prepared in just two pans! That's correct, there will be very few dishes for you to clean up later. Make yourself some homemade Shrimp & Teriyaki Steak Noodles and cozy up with a nice book or watch a good movie in your pyjamas!!