Simple recipe for delicious homemade cinnamon roll coffee cake to go with your coffee breakfast.
Mornings can be uggh!! You have to get up early, prepare for work, prepare the kids for school, and somehow manage to stay alert through the drive to work (hits head on steering wheel!).
If you're going to be up and running, you need a healthy breakfast that'll help you stay alert, but won't take an eternity to make. This is where a tasty cinnamon roll coffee cake comes in. This heaven of a recipe has all the flavor of a cinnamon roll and just a tiny portion of the effort. Topped with a delicious glaze, the cinnamon roll is your go to treat when having your cup of coffee or if you just need a desert to snack on.
Cinnamon roll coffee cakes require ingredients that you most likely already have in yur pantry, helping you to save money as you save time. Let's quickly delve into how you can give your taste buds a taste of heaven.
Baking Tips:
Spray your cake pan with some baking spray before transferring the batter into it. This will prevent baked cake from sticking to the pan
Serving quantity: per roll
Serving size: 12 servings
Print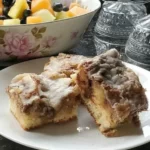 EASY CINNAMON ROLL COFFEE CAKE
---
Ingredients for the Cake:
·½ cup melted butter
·2 eggs
·1 cup sugar
·3 cups flour
·2 teaspoon vanilla
·4 teaspoon baking powder
·¼ teaspoon salt
·1½ cups milk
Ingredients for the Topping:
·1 cup butter, melted
·1 cup brown sugar
·2 tablespoon flour
·1 tablespoon cinnamon
Ingredients for the Glaze:
·2 cups powdered sugar
·5 tablespoon milk
·1 teaspoon vanilla
---
Instructions
1. Preheat your oven to 350°F (177°C).
2. Mix all the ingredients for the cake in a large bowl until they are homogenous and then transfer into a 9×13 rectangular cake pan
3. Mix all the ingredients for the topping in a smaller bowl until they become homogenous. Evenly spread this mix on the batter for the cake and then swirl with a spatula.
4. Transfer the batter to the oven and bake at the preheated temperature for 35 minutes. Take the baked cake out of the oven afterward
5. Mix all the ingredients for the glaze in a small bowl until the consistency resembles that of pancake syrup
6. While the glaze is warm, sprinkle it over the baked cake. The sprinkled glaze will set into a harder glaze after a while
7. Serve your tasty cinnamon roll coffee cake with a cup of coffee or warm milk
Notes
NUTRITION INFORMATION:
Calories: 402 kcal, Fat: 9 g, Saturated fat: 3 g, Carbohydrates: 34 g, Sugar: 5 g, Sodium: 174 mg, Fiber: 1.4 g, Protein: 4.2 g.