This cake is light and fluffy, loaded with, pecans and shredded coconut, and a creamy whipped cream cheese frosting on top. This is a perfectly delicious timeless classic!
This magnificent Italian Cream Cake is one of the most delicious desserts ever created! Whichever way you slice it, it's a beautiful cake. Only the delicious cream cheese icing beats the deep thick pecan and coconut batter. It's perfect for serving as the main course at birthday parties, holidays, or any other special occasion.
This classic dessert is more Southern than Italian, and no one knows for sure why it was given that name. Anyways, Italian cream cake recipes are essentially the same.
While there are multiple stages to making this cake, it is a labor of love that is well worth the effort when you see the joy on the faces of your family and friends that you serve this delight.
Tips and variations:
•The simplest way to toast the pecans is to lay a single layer on a baking sheet and toast in a 350 degree Fahrenheit for about 6-8 minutes. Cool completely before adding to the batter.
Prep Time: 25 minutes
Cook Time: 30 minutes
Cooling Time: 2 hours
Total Time: 55 minutes
Servings: 12 pieces
Print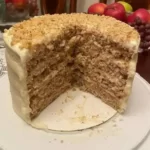 ITALIAN CREAM CAKE
---
2 cup all-purpose flour
1 tsp. baking soda
½ tsp. baking powder
1 cup salted butter softened
1 ½ cup granulated sugar
½ cup light brown sugar
2 tsp. pure vanilla extract
½ tsp. pure almond extract
5 large eggs
1 cup whole buttermilk
14 oz. package sweetened flaked coconut divided
1 ½ cup pecan pieces toasted divided
Frosting:
2 blocks cream cheese softened
1 cup unsalted butter softened
2 lb. powdered sugar
2 tsp. pure vanilla extract
½ tsp. pure almond extract
Reserved coconut toasted
½ cup reserved toasted pecans
---
Instructions
Step 1:Preheat the oven to 350 degree Fahrenheit, then spray the bake pans with baking spray, set aside. Sift the flour, baking soda and baking powder together in a bowl.
Step 2:Cream together the softened butter, granulated sugar, brown sugar, pure vanilla and almond extracts in a stand mixer bowl and beat for about 3-4 minutes or until it is creamy and light in color. Then add in the eggs, one at a time while beating.
Step 3:Combine the sifted dry ingredients with the buttermilk and then increase the mixer speed and beat until it is well combined. Mix in ½ of the coconut and 1 cup of toasted pecans by hand, and divide the batter between the cake pans equally.
Step 4:Allow to bake for about 25-30 minutes or until a toothpick inserted into the center comes back clean. Set aside to cool completely on the cooling rack.
Step 5:To make the frosting, combine the cream cheese and butter together until light and pale yellow in color. Then add in the vanilla and almond extracts, also add the powdered sugar gradually, beat until it is creamy and smooth.
Step 6:Use a wax paper strips to line the edge of the cake plate and frost the cake between the layers drizzling through each with reserved toasted pecan pieces, add the final layer and frost the sides and tops.
Step 7:Press in the toasted coconut on sides, and decorate the top with the remaining chopped pecans. Chill before serving to enjoy!
Notes
Nutritional facts:
Calories: 1216kcal
Carbohydrates: 149g
Protein: 11g
Fat: 68g
Cholesterol: 201mg
Sodium: 505mg
Potassium: 315mg