If you love pecan pie, you will be over-the-moon for this pecan pie bark. The original recipe is delicious and will hit the spot when the craving for pecan pie hits. My daughter has random cravings for pecan pie and sometimes I don't have time to make one.
I also love that there are so many variations that you can make which is fantastic but dangerous – I will want to make every combination possible. Check in the Notes section below for some suggestions. The vanilla wafers sound great as the base. I prefer vanilla wafers and I always have some in the pantry! I also must throw some chocolate chips in there because chocolate pecan pie is divine so I am sure it will make a perfect combination in this bark.
This also makes great little gifts for the holidays. It is different from other sweet treats given as gifts and you could even include the recipe and share the love!
Notes:
• There are so many variations for this recipe that you can make an assortment based on your preferences.
Ideas for Variations
• Crust: Instead of using graham crackers as the base try using broken up pieces of vanilla wafers or saltine crackers. You could also use various kinds of graham crackers like cinnamon graham crackers or chocolate graham crackers.
• Nuts: Although this recipe is based around Pecan Pie, you could make it with any kind of nuts. Try using almonds, walnuts, or a mixture of your favorite nuts.
• Maple Syrup: Pecans and maple syrup make a great combination. To bring that into your bark recipe replace the vanilla extract with 1 tablespoon of maple syrup.
• Bourbon: To make a boozy Pecan Pie Bark try adding in 2-3 tablespoons of bourbon at the same time you add pecans.
• Chocolate: Toss in a cup of chocolate chips to the sauce pan to melt in with the butter, sugar, and other ingredients to make this into a Chocolate Pecan Pie Bark.
Keeping Bark Fresh
• Serve: You can keep the bark at room temperature for up to a week. Keep the bark covered or put it in an airtight container.
• Store: To keep them fresh longer, you can keep the Pecan Bark in an airtight container in the fridge for up to 2 weeks.
• Freeze: Bark is also a great recipe to make ahead of time and freeze. Put the broken-up pieces of bark in a freezer bag separated by parchment paper. It will keep well for up to 6 months.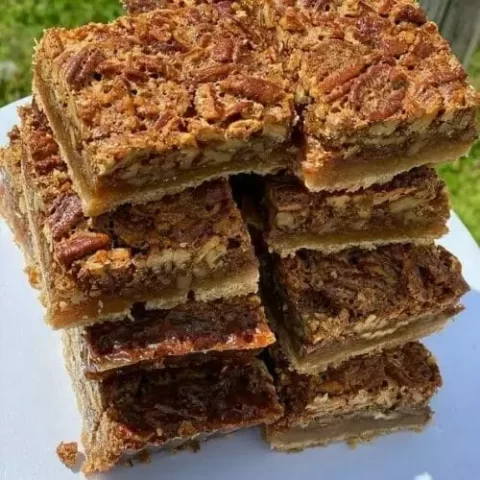 PECAN PIE BARK
Ingredients
12 sheets graham crackers
1 cup unsalted butter
1 cup brown sugar, packed
1/4 tsp. salt
2 cups pecans, chopped
1 tsp. vanilla extract
Instructions
Preheat oven to 350° F and line a 9×13 baking sheet with foil sprayed with vegetable oil.
Line up the graham crackers tightly (break crackers to fill in any gaps).
In a large saucepan on medium heat add the butter, brown sugar, and salt.
Bring to a boil and stir constantly for 3 minutes.
Add in the pecans and cook for 30 seconds. Remove from heat.
Stir in the vanilla extract.
Pour the mixture over the graham crackers.
Bake in preheated oven for 10 minutes.
Remove from oven and let pan sit – do not try and move the foil.
Let cool completely before breaking apart.
Nutrition Information:
Amount Per Serving:
Calories:

0
Total Fat:

0g
Saturated Fat:

0g
Trans Fat:

0g
Unsaturated Fat:

0g
Cholesterol:

0mg
Sodium:

0mg
Carbohydrates:

0g
Fiber:

0g
Sugar:

0g
Protein:

0g