Pecan Upside Down Cake! This luscious dessert combines rich butterscotch caramel sauce, crunchy pecans, and a moist, flavorful cake into a heavenly creation. With every bite, you'll experience the perfect balance of sweetness and nuttiness, making this cake a delightful treat for any occasion.
Why You Should Try It:
Craving a dessert that's as impressive to look at as it is delicious to eat? Look no further! Our Pecan Upside Down Cake is a showstopper that delivers on both taste and presentation. It's the ideal dessert for gatherings, celebrations, or simply when you want to treat yourself to a slice of pure indulgence.
Exciting Story:
Imagine a cozy kitchen filled with the delightful aroma of caramel bubbling on the stove. The warm, golden hues of the butterscotch sauce blend seamlessly with the toasty scent of pecans. As the cake bakes, the kitchen becomes a haven of anticipation. When the cakes are finally inverted, revealing the glorious caramelized pecan topping, it's a moment of culinary triumph. Each slice tells a tale of craftsmanship and passion, inviting everyone to savor the magical fusion of flavors.
Why This Pecan Upside Down Cake Is a Must-Try:
This cake is a masterpiece where the sweetness of the butterscotch caramel meets the crunch of pecans and the softness of the cake. It's a harmonious blend that creates a memorable dessert experience, leaving you craving more.
What Makes It Unique:
What sets this Pecan Upside Down Cake apart is the meticulous preparation of the butterscotch caramel sauce. This indulgent sauce, combined with the carefully arranged pecans, elevates the cake to extraordinary heights. It's a dessert that not only delights the taste buds but also enchants the eyes with its stunning presentation.
Remember it later
Like this recipe! Pin it to your favorite board NOW!
Print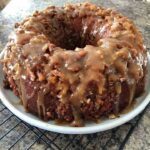 PECAN UPSIDE DOWN CAKE
---
Author:

Total Time:

50 minutes
Sauce-Caramel:
310 ml sugar
60 ml (1/4 c) Scotch (whiskey or bourbon)
60 ml (1/4 c) water
30 ml (2 tbsp.) light corn syrup, preferably
250 ml (1 c) hot cream
60 ml (1/4 c) salted butter
375 ml (1 1/2 c) pecan halves
For The Cake:
500 ml (2 c) all-purpose flour
180 ml (3/4 c) pecans, finely chopped in a food processor
5 ml (1 tsp) baking soda
1 ml (1/4 tsp) salt
125 ml (1/2 c) unsalted butter
60 ml (1/4 c) canola oil
375 ml (1 1/2 c) brown sugar
5 ml (1 tsp) vanilla extract
3 eggs
250 ml (1 c) buttermilk
---
Instructions
Preheat your oven to 180°C (350°F). Butter and line the bottom of two 20-cm (8-inch) square baking dishes with parchment paper, allowing it to hang over two sides. Place them on a cookie sheet.
Prepare the butterscotch caramel sauce: In a saucepan, combine sugar, Scotch, water, and syrup. Boil without stirring until it turns golden. Off the heat, slowly add the hot cream and butter. Bring to a boil again until smooth. Divide the caramel between the baking dishes. Sprinkle half of the pecans over the caramel.
For the cake batter: In a bowl, combine flour, chopped pecans, baking soda, and salt. Set aside.
In another bowl, cream butter with oil, brown sugar, and vanilla using an electric mixer. Add eggs one at a time, beating until smooth. At low speed, add the dry ingredients alternately with buttermilk.
Carefully divide the batter between the baking dishes over the caramel layer. Bake for about 50 minutes until a toothpick inserted comes out clean. Let it cool for about 30 minutes.
Invert one cake onto a serving platter. Then, invert the second cake onto a baking sheet and slide it onto the first cake. Let it cool completely.
Serve warm or chilled. For an extra touch, top with whipped cream. Enjoy this delightful caramelized creation!
Prep Time:

10 minutes

Cook Time:

40 minutes
Remember it later
Like this recipe! Pin it to your favorite board NOW!