Dips remind me of parties and for years there was one dip that I always took to every party we attended. After we hosted a get-together, we had a variety of dips left over in the fridge. I did not have the motivation to make dinner, so I heated the warm dips, put the cold dips in bowls, threw a variety of crackers, chips, and vegetables on the tray with the dips and called it dinner. We loved it!
Since the first dips-for-dinner, we do the same thing about once a month. I make 3-4 types and arrange a lovely platter with accoutrements and that is dinner. It is fun and different. This dip was one of the originals that friends brought to our house.
It was the first time we had it and now it is part of our dip recipe collection and is a regular for our monthly family dip dinner. It is delicious and disappears quickly – sometimes I double the recipe and if we happen to have any left (very rarely), it reheats nicely. Give it a try and you won't be disappointed!
Notes
• One important thing to note is that this recipe is only good for a couple of servings – about 2 to 4 servings – depending on the appetites of those that will be eating it, of course.
• There are plenty of dipping options to serve with this dip: Toasted bread wedges, pita chips, bagel chips, crackers, veggies, and some people love fries (I think I will need to try that)!
• Crushed Ritz crackers mixed with melted butter sprinkled on the top before baking gives nice texture and added flavor.
• Adding chopped artichokes, chopped jalapeño, or diced green chiles are delicious and give variety
• You will want to cook the bacon extra crispy. Trust me!
• Adding a few dashes of Worcestershire sauce or hot sauce enhances the flavor and with hot sauce you can adjust the level of spiciness.
• You can prep the dip ahead, wrap it, and put it in the fridge until you are ready to bake it. Making it the day prior saves so much time!
Print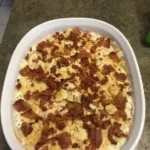 THE BEST DIP IN THE WORLD
---
8 ounces cream cheese, softened
1 cup sour cream (Regular or Light)
1 cup mayonnaise (Regular or Light)
2 cups shredded cheddar cheese
6 slices thick cut bacon, cooked and crumbled
1/2 cup sliced green onion
---
Instructions
Preheat oven to 350° F
Cook bacon in a skillet until crispy. Remove to a plate and when cool, chop or crumble the pieces.
In a large bowl, combine the softened cream cheese, sour cream, mayonnaise, cheddar cheese, bacon, and green onion. Mix this by hand until well blended.
Spoon mixture into a 1-quart baking dish and bake for 25-30 minutes or until cheese is bubbling and hot.