These little broccoli cheddar cups need some explaining! Broccoli in a creamy sauce with cheddar, Parmesan, roasted red peppers, onion and garlic is baked inside tortilla "cups" fitted in a muffin pan. Simple yet special, they can be served as a side dish or appetizer.
To make the "cups" corn or flour tortillas are briefly heated in a frying pan and cut into 4 triangles. Three of the triangles are needed to form a cup – they're pressed into the wells of a muffin pan point side down.
An easy cheese sauce is made stove-top with milk, a touch of Dijon, sharp cheddar and Parmesan then cooked broccoli is stirred in. After ladling it into the tortilla cups it gets baked until hot, bubbly and absolutely delicious.
I love the idea of using tortillas like this! They get a little crispy and hold up pretty well – I used corn but flour ones work too. You can also use pie crust or puff pastry.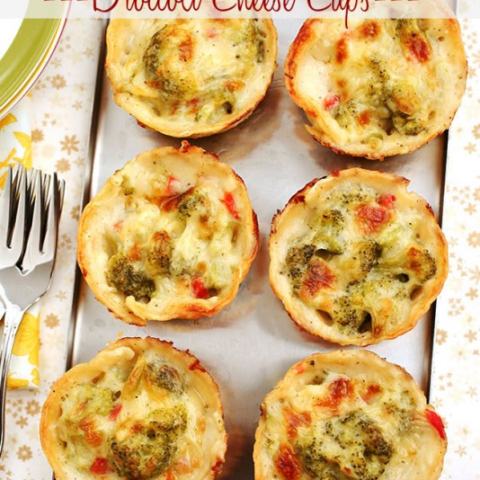 Baked Broccoli Cheese Cups
Ingredients
butter, for greasing the pan
8-9 corn or flour tortillas (6-inch size)
olive or vegetable oil non-stick spray
1 tablespoon olive oil
1 tablespoon butter
2 tablespoons diced onion
1 clove minced garlic
½ (jarred) roasted red pepper, diced
1 cup whole milk
1 teaspoon Dijon mustard
1 + ⅓ cups shredded extra sharp cheddar cheese (white or yellow)
¼ cup grated Parmesan cheese
sea or kosher salt and black pepper
10 ounces cooked broccoli, chopped into bite-size pieces (about 2 + ½ cups
Instructions
Generously butter 8 cups of a muffin pan. Preheat the oven to 400 degrees F.
Heat a frying pan over medium heat and working with one tortilla at a time spray each side of the tortilla lightly with non-stick spray.
Cook on each side 30 seconds to 1 minute. Let cool until you can handle it and cut into 4 triangles.
Fit each muffin cup with three triangles - points first - pressing the tortilla into the bottoms and up the sides. Repeat until all 8 are fitted with tortilla cups.
In a small saucepan heat the oil and butter over medium-low heat and add the onion, garlic and red pepper. Cook, stirring often, about 5 minutes.
Sprinkle the flour over the veggies and cook 2-3 more minutes, stirring often.
Slowly whisk in the milk and mustard. Turn the heat up to medium-high and bring to a simmer. Simmer 3 minutes stirring often.
Turn the heat down to low and stir in the cheddar a little bit at a time followed by the Parmesan cheese.
Season with about ½ teaspoon salt and ⅛ teaspoon black pepper or to taste.
Remove from heat and stir in the broccoli.
Use a ladle to fill each cup with the broccoli mixture almost to the top.
Bake 18 minutes. Let them set up 10 minutes before removing from the pan.
Run the point of a paring knife around the edges of each one and lift them out by the edges of the tortillas.
Nutrition Information:
Amount Per Serving:
Calories:

0
Total Fat:

0g
Saturated Fat:

0g
Trans Fat:

0g
Unsaturated Fat:

0g
Cholesterol:

0mg
Sodium:

0mg
Carbohydrates:

0g
Fiber:

0g
Sugar:

0g
Protein:

0g