I first made baked spaghetti a few years ago and my family was a bit unconvinced only because they could not envision what it meant – but they were sold when they tried it! I have always made lasagna so when I saw a recipe for baked spaghetti, I was intrigued. It is delicious, easy, and complete comfort food. The leftovers – if there are any – are great as well.
Cream cheese is the ingredient that takes this baked spaghetti up a notch. The rich texture is wonderful and deepens the other flavors beautifully. I love making two and freezing one for later. Having dinner options in the freezer has helped me out on many occasions!
I am a huge fan of fresh herbs and garnishing with chopped fresh basil is my favorite. You can use any fresh herb that sounds good to you or leave it off – it is delicious either way!
You can substitute the spaghetti noodles with linguini noodles. Angel hair is a bit too delicate and falls apart easily. If you want to use penne or similar pasta, that works great as well.
• If you need to make the dish ahead of time, assemble in the baking dish, cover, and refrigerate until ready to bake. You may need to add a little time to the baking.
• Freezing Unbaked: Assemble the dish, cover in plastic wrap, then cover in aluminum foil. Freeze up to 2 months.
• Heating After Frozen: When ready to bake, thaw and remove the plastic wrap and aluminum foil. Replace the foil and bake at 350° F for 30 to 40 minutes. Uncover and bake an additional 5-10 minutes until the cheese is bubbly. If you bake when frozen, remove the plastic wrap and foil, replace the foil and bake at 350° F for 1 hour. Uncover and bake another 10-15 minutes until the cheese is bubbly and the center is 160° F.
• I love chopped fresh basil over the top but fresh oregano, chives, or your favorite fresh herb (or a mixture of herbs) will be lovely.
Print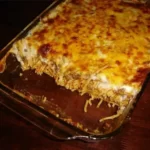 BAKED CREAM CHEESE SPAGHETTI
---
12 oz. spaghetti
1, 28 oz. jar prepared spaghetti sauce
1 Tbsp. olive oil
1 lb. ground beef – lean
1/2 cup diced green pepper
1/2 cup diced onions
1 tsp. Italian seasoning
2 cloves garlic – minced
8 oz. cream cheese – room temperature and cut into chunks
1/2 cup parmesan cheese – grated
1 cup mozzarella cheese – shredded
Fresh basil – chopped
---
Instructions
Preheat oven to 350° F and lightly grease a 9×13 glass baking dish with oil.
Cook spaghetti noodles according to directions and drain. Return to pot.
While noodles are still hot, add cream cheese, Italian seasoning, and minced garlic – mix thoroughly.
In a skillet, add olive oil and brown the ground beef with the green peppers, onions. When the ground beef is fully cooked, drain the fat if there is any.
Add the spaghetti sauce to the skillet with the ground beef mixture and stir to combine.
In the bottom of the prepared baking dish, spread a small amount of ground beef mixture to cover the bottom.
Pour all the spaghetti mixture on top and even out the noodles.
Pour the remaining ground beef mixture over the top of the noodles.
Sprinkle with ¼ cup of parmesan cheese and then cover with the mozzarella cheese.
Bake for 30 minutes until bubbly.
Sprinkle the remaining parmesan cheese and garnish with the chopped fresh basil.
Let rest for 10 minutes and serve.