Chimichangas are great Mexican dishes that are wonderful if you're looking for a savory, filling dish that really hits the spot. In this, we'll tell you how you can make some savory chimichangas that are filled with tons of beef, cheese, and also other great items.
They're a great lunch item to have if you're pressed for time during lunch, and they also are quite simple to make too. They also do sit well in the fridge if you need a quick grab and go item, and they're already made before and, so you definitely will be impressed with this the moment you take a bite.
Tips:
Is there any trick to making sure the chimichangas are rolled correctly?
There isn't really any secret to making this easier, it's just a bit of practice to get the hang of making these.
Some people do like to fold these up with smaller meat mixtures to start, so that it doesn't fall out of the chimichanga. After a bit, you'll get used to it, and then you can fold more and more in there.
Making smaller ones with less meat helps you get the hang of this, and also is good for making it a little easier when it comes to the deep frying phase as well.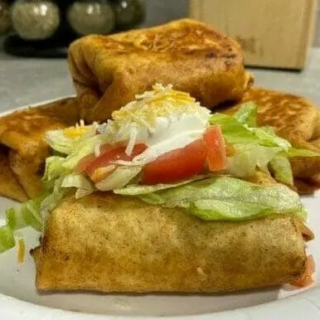 Beef and Cheese Chimichanga
Ingredients
1 pound ground beef
1 can (16 ounces) refried beans
1/2 cup finely chopped onion
3 cans (8 ounces each) tomato sauce, divided
2 teaspoons chili powder
1 teaspoon minced garlic
1/2 teaspoon ground cumin
12 flour tortillas (10 inches), warmed.
1 can (4 ounces) chopped green chilies.
1 can (4 ounces) chopped jalapeno peppers.
Oil for deep-fat frying.
1-1/2 cups shredded cheddar cheese.
Instructions
Get a big skillet and cook up your beef over a medium heat level until it's not pink in color. The beef may crumble a little bit, and that's totally fine.
Drain this, and then, put the onion, the beans, and about ½ a cup of tomato sauce into this. From there, add garlic, chili powder, and cumin to this, properly combining all of this together.
Spoon a third of your beef mixture into the center of the tortillas. Try to get it a little bit off center so that it makes folding easier.
Next, you want to fold the edge closest to the filling up and fully over the mixture itself to cover this.
Fold the other two sides of this in, and then, fully roll this up. It may take a couple tries, but usually, after you get used to this a little bit, folding this is pretty easy.
Once it's fully rolled up, get the toothpicks and fasten them together in order to make sure that it stays.
Get another saucepan, this time a large one, and then add the peppers, the chilies, and the rest of the tomato sauce, heating all of this up and through.
Then, with a deep fat fryer or an electric skillet, heat about an inch of oil at 375. From there, take the chimichangas, and fry this for about a minute or two on each side, until everything is deeply browned.
Take them out, and then drain these on some paper towels to make sure that they're not covered in oil.
Put the cheese on top of this, and then serve this with the sauce!
Nutrition Information:
Amount Per Serving:
Calories:

0
Total Fat:

0g
Saturated Fat:

0g
Trans Fat:

0g
Unsaturated Fat:

0g
Cholesterol:

0mg
Sodium:

0mg
Carbohydrates:

0g
Fiber:

0g
Sugar:

0g
Protein:

0g