We have chicken for dinner several times a week and I was struggling with the monotony that was setting in. I was reading recipes and it dawned on me that I hadn't made stuffed chicken breasts in a long time. I was prompted to get creative and serve chicken in a more exciting version and my family loved it!
I like to serve this chicken with mushroom risotto, roasted potatoes, roasted asparagus, sautéed green beans, or roasted asparagus – those are a few of my favorite sides! It is so versatile that you can serve your favorite side dishes and they will likely go perfectly.
This chicken is easy and delicious which is perfect even if you have little time to get dinner on the table. You can also get creative, use vegetables, and cheeses you have on hand.
Enjoy!
Notes:
• If you use frozen broccoli, make sure that it is well drained after steaming. Removing as much excess water is important to keeping the filling together.
• You can use different cheeses – Gruyère works well, and Parmesan is great. Make sure it is a good melting cheese but not so soft that it melts out of the broccoli stuffing. Brie is an example of a cheese that is too soft.
• Cauliflower is a great option instead of, or with, broccoli.
• If you don't have an oven safe skillet, you can sear the chicken in a skillet first, then transfer to an oven safe dish.
Print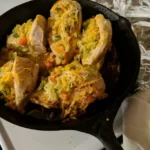 Broccoli Cheddar Stuffed Chicken Breasts
---
Description
I am in love with this Broccoli Cheddar Stuffed Chicken Breasts! The succulent chicken breasts are filled with amazing flavors. Pan-seared chicken stuffed with a delicious broccoli cheese mixture, then baked to golden perfection. This recipe is ridiculously easy to make and the best chicken dinner you'll ever have!
---
4 large boneless, skinless chicken breasts
3 cups broccoli florets
1 ½ cups shredded cheddar cheese
2 oz. cream cheese – at room temp
1 Tbsp. chopped fresh chives or other fresh herbs
Garlic powder, cumin, or other spices
3–4 Tbsp. olive oil
¼ cup chicken stock
---
Instructions
Preheat the oven to 400°F.
Place the broccoli in a microwave-safe bowl then add 2 tablespoons water.
Cover the bowl (a large plate works best) then microwave the broccoli for 2 minutes.
Remove the broccoli from the microwave and drain it very well then lay on paper towels to remove excess moisture.
Chop the broccoli into small, pea-sized pieces then add it back to the bowl.
Add to the broccoli, the cheddar cheese, cream cheese, chives, ¼ tsp. salt, and ¼ tsp. pepper. Stir until well-combined.
Arrange the chicken breasts on a cutting board, and using a sharp knife, cut a deep pocket lengthwise into each chicken breast without cutting all the way through to the other side.
Divide the broccoli mixture among the chicken breasts, pressing it firmly into each pocket.
Season the outsides of the chicken breasts on both sides with garlic powder, salt, pepper, and any other preferred spices.
Using a heavy ovenproof skillet – cast iron is best – heat olive oil over medium heat. Once the oil is hot, add the chicken breasts.
Sear the chicken for 3-5 minutes on one side (it should be a nice golden-brown) then flip each over and sear an additional 2 to 3 minutes.
Remove from heat, add chicken broth to skillet, and carefully cover with aluminum foil.
Transfer the skillet to the oven and continue cooking the chicken breasts until the thickest part of each breast reaches 165°F, 10 to 15 minutes.
Remove the chicken breasts from the oven and let rest for 5-10 minutes before serving.