I was looking to add a little culinary variety to our dinners and realized that I had never made a Chinese dish. It seemed difficult and I figured a disaster would ensue if I broke out the wok, so it was Chinese take-away for us when we had a craving. When I stumbled across this recipe, I decided to give it a go and it changed the game for me! I was impressed with how easy it was, how the flavors came together beautifully, and that my family said it was incredible. Instead of regular requests for Chinese take-away, they ask me to make this meal – proud feelings on so many levels!
I must mention the sauce: This Chow Mein sauce truly is the best. It has a perfect balance between sweet and savory with a depth that pulls it all together. It is difficult to describe but I have never encountered a sauce like this before. I think you will love it too!
Do not be afraid to change the vegetables for variety and to use what you have on hand. See the Notes at the bottom for some ideas.
Notes:
* There are really no rules when it comes to the types of vegetables you use. The basic vegetables are carrots, cabbage, and green onions. If you want to branch out, tailor the vegetable mixture to your liking. Bok choy, bean sprouts, celery, broccoli, spinach, kale, or baby corn (if you have the acquired taste for baby corn!) are example of great options to try.
* Chicken is the popular protein choice but try changing it up sometime and use beef, shrimp, or pork – you may find you prefer another meat!
* For vegetarians, modification is quite simple – use vegetable broth instead of chicken and bake some tofu to throw in instead of meat. I always bake extra tofu and keep it in the fridge. This has saved me vast amounts of time when cooking!
Print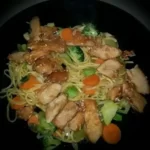 CHICKEN CHOW MEIN WITH THE BEST CHOW MEIN SAUCE
---
1 lb. chicken breast boneless, skinless (cut into bite-sized strips)
3 Tbsp. olive oil
12 oz. Chow Mein noodles (uncooked)
2 cups cabbage
1 large carrot julienned
1/2 bunch green onions – sliced
2 garlic cloves
Chow Mein Sauce
6 Tbsp. oyster sauce
3 Tbsp. low sodium soy sauce
3 Tbsp. light sesame oil (not toasted)
1/2 cup chicken broth
1 Tbsp. cornstarch
1 Tbsp. granulated sugar
---
Instructions
Prepare Chow Mein Sauce
In a small mixing bowl, use a whisk to combine oyster sauce, granulated sugar, sesame oil, soy sauce, chicken broth and cornstarch. Set aside.
Cook the noodles according to package instructions, drain, rinse with cold water, and set aside.
Heat a large wok or large sauté pan with olive oil over medium heat. When the oil is hot, add chicken and cook until golden brown. Remove chicken and set aside.
Add carrots, cabbage and pressed garlic and sauté for just a few minutes until veggies are slightly softened and the cabbage is a bit translucent.
Add chicken and noodles back into the pan. Pour sauce over the top and continue cooking all the ingredients together for another 2 minutes.
Garnish with chopped green onions and it is ready to serve.
Enjoy!