Taco soup is perfect for warming the body when it's cold out, and it's a great sinner recipe you can prepare for multiple meals ahead of time that you and your family will love.
Questions and Tips:
What's the best items to go with taco soup?
Chips are always a great way to go and adding some salsa to it is perfect for creating a kick to your taco soup.
However, cheese, sour cream, avocadoes and other fun toppings definitely add some extra kick to this.
How long can you keep taco soup for?
You can keep this for up to five days if you store it in a Ziploc container. Freezing soup is another option. You just have to thaw it in the fridge overnight, reheat this, and add more broth if you want.
Usually, if you keep it properly stored, you can keep a lot of soup for a long time. this is perfect for those who want freezer meals, as they can offer a great alternative to just making soup again and again.
Those who like to meal prep for the entire week can make this for a week, just keep two days of this e frozen for best results.
What's the best way to thicken taco soup?
You normally don't need to thicken taco soup, since the veggies and meat already make this soup kind of chunky. However, if you're the kind of person who loves a thick soup, add some refried beans to it to help with thickening it. Rice is another great way to thicken it and also adds a bit more flavor and thickness to the consistency of the soup.
Am I allowed to use taco seasoning that's homemade for this?
Of course! Taco seasoning is great both homemade and store-bought. Some people prefer to have store-bought because it's easier to start with, but for those who prefer to make it themselves, this is a great alternative to that, and is a great one to consider if you do like to add your own spices to this.
Some also like homemade a little bit better because it allows you to add more spices to this, creating a taco soup with an extra kick. You can also add other spices too in order to create a unique flavor that you and your family will love.
Print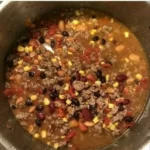 Quick and Easy Taco Soup
---
2 pounds ground beef
1 can (15-1/4 ounces) whole kernel corn, drained
1 can (16 ounces) mild chili beans, undrained
1 can (15 ounces) pinto beans, rinsed and drained
1–1/2 cups water
1 envelope taco seasoning
1 can (14-1/2 ounces) stewed tomatoes
1 envelope ranch salad dressing mix
1 can (10 ounces) diced tomato with green chiles
1 can (4 ounces) chopped green chiles, optional
---
Instructions
First, get a Dutch oven and put the beef in there, cooking it at a medium-level heat until you don't see any pin.
Crumble it, and then drain the meat.
Put taco seasoning into there, mixing this well.
Add the rest of the ingredients, boil this, then let it sit to simmer without being covered for about 15 minutes until everything is heated up. You might have to stir occasionally
Serve with tortilla chips if you'd like.
Notes
Nutrition Info
Serving size: one cup
Calories: 370 Fat: 14 grams Cholesterol: 70 mg Sodium: 1369 mg Carbs: 35g Fiber: 7g Sugars: 7g Protein: 27g