Made with chickens, mushrooms, spinach and cheese, this low carb diet is a delicious, yet healthy option for breakfast, lunch or dinner.
If you are looking for a low carb dish that your family will enjoy, then you should consider chicken spinach and mushroom low carb oven dish. This recipe is truly one for the ages and is an excellent breakfast, lunch or dinner option.
A nutritious and low-carb nutritional dish made with chicken, spinach, and mushrooms. There's a lot of spinach, a lot of mushrooms, a lot of cream cheese sauce, and a lot of mozzarella in this dish. For this casserole, you can use any side dish. It's simple to make: just fold everything in layers and bake. You've prepared a delectable dinner, and you've done an excellent job!
Green onion cream cheese is the base sauce in which the chicken and vegetables will be cooked. It provides a slightly salty sour taste that mixes well with the veggies. Chicken broth adds a lot of flavor to this dish. But if you like, you can replace it with water. For the mushrooms, you can use fried mushrooms (which I prefer) or you can use canned mushrooms. If you're using canned mushrooms, just ensure to drain out the water so that you don't get extra liquid into your dish.
This dish is incredibly easy to prepare, and quick too. You must give your family a taste o this!
Cook time: 55 minutes
Serves: 4 servings
Print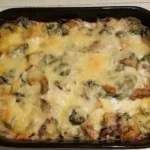 CHICKEN SPINACH AND MUSHROOM LOW CARB OVEN DISH
---
6 thin sliced chicken breasts
1 container green onion cream cheese
¼ cup olive oil
½ cup chicken broth
1 Large package sliced mushrooms
1 small bag fresh baby spinach
1 dash Weber Herb and Garlic Seasoning
1 dash pepper
8 oz shredded mozzarella cheese
---
Instructions
Step 1: Lay out the chicken in a single layer in a pan and top with mushroom and spinach, then sprinkle the seasonings on it.
Step 2: Soften cream cheese and whisk in olive oil and the chicken broth then pour it over the chicken mixture. Cover the pan with foil, but do not seal.
Step 3: Leave it to bake at 375 degrees for 20 minutes, then remove the foil and bake again for 20-25 minutes, sprinkle mozzarella cheese on top and bake again for another 10 minutes or until it starts turning brown.
Step 4: Let it cool for 10 minutes and serve.
Notes
The chicken are the main ingredients in this dish. However, you can substitute turkey for chicken and still get the same amazing taste.