I have a special love for dinners made in a Crockpot. I don't think it is only because my mom used her Crockpots (she had 4) a lot, but also because I use our Crockpot often, and now my adult daughter uses hers as well (My mom gave her one of her Crockpots!) Three generations of avid Crockpot enthusiasts!
This is a great recipe for the Crockpot and one that my family still compliments. I know I have burned them out on certain dishes in the past, which I have worked hard to change, but this recipe is not one for the burn out pile.
Everyone is busy with life, not just those with families, and knowing how to make easy, homecooked meals that are delicious is priceless. There is something about putting everything in the crockpot, going about your day, and coming home to dinner ready to serve that feels like a beautiful gift. Give this a try and you will be happy to add it to your keeper pile.
Notes:
* A thicker bone-in chop will yield the best results. You want the pork chops to have a little fat and good marbling so as it slowly cooks, it becomes more tender and juicier. Avoid the leaner cuts and boneless pork because the meat will not be as tender.
* Searing the meat is an important step that should not be skipped. Not only does it seal in the juices and the seasoning flavor, it also looks more appealing when served.
* Place leftover pork chops in an airtight container in the refrigerator and use within 3-4 days. Freeze the leftovers in an airtight container for up to 2 months.
Print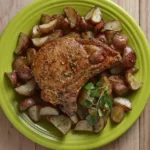 Crockpot Ranch Pork Chops and Potatoes
---
3 lbs. Red Potatoes – quartered
1 onion – sliced
3 cloves of garlic – chopped
6 (about 1–1 ½ inches thick) Bone-In Pork Chops
1/2 Cup Olive Oil
4 Tbsp. Dry Ranch Seasoning (2 one-ounce packets)
2 tsp. Apple Cider Vinegar
3 Tbsp. Salted Butter – cut into 6 pieces
---
Instructions
Spray the bottom of the Crockpot with oil and place the quartered potatoes in the bottom.
Open one ranch packet and pour into shallow dish. Pat the pork chops dry and dredge each one in the ranch powder.
In a heavy skillet (preferably cast iron), heat 1 Tbsp. of olive oil medium/high heat. When oil is hot, carefully place the pork chops into the pan and sear for 2-3 minutes on each side – they should have a nice brown color. Remove the pork chops from the pan and place on top of the potatoes in the Crockpot.
In the same skillet, add a little more oil if needed to coat the pan (leave any bits from the pork chops in the pan) and heat on medium until the oil is hot. Throw in the onions and stir for 1-2 minutes. If they are browning too quickly, turn the heat down a little. Then throw in the garlic and stir for about 30 seconds. Remove from heat and put the onion/garlic mixture in the Crockpot. Scrape any bits from the pan and add them to the Crockpot.
In a bowl, whisk together the olive oil, ranch seasoning packet and apple cider vinegar. Pour over the potatoes and pork chops.
Top the pork chops with the butter pieces.
Cook on low heat for 5-6 hours or on high for about 3 hours. Don't lift the lid while cooking or you will lose moisture.
Using a meat thermometer, ensure the pork has an internal temperature of 145° F.
Salt/Pepper to taste.