Growing up, my mom had an arsenal of homemade soup recipes, but my heart belonged to the chowders. There's just something about those warm, velvety chowders that make them the ultimate comfort food for chilly winter days. So, when I stumbled upon this recipe, I knew I had struck gold. I had to give it a go, and boy, was I right about it being incredible.
Let me introduce you to the Ham and Potato Corn Chowder—the game-changer that took chowders to a whole new level. It quickly became my absolute favorite, and not just mine—my family adores it too. As soon as the cold weather starts rolling in, the requests for this divine creation start pouring in. Trust me, there's absolutely nothing mundane about this chowder. It's hearty, bursting with flavor, and oh-so-satisfying. I love serving it with a crusty baguette or some crunchy rolls, perfect for dipping into the creamy goodness.
Let me share a little story with you. I once made a big pot of this chowder for a work luncheon. I popped it into my trusty Crockpot, and when I arrived at the office, I plugged it in to keep it warm until the luncheon began. It was a stroke of brilliance, I tell you—it worked like a charm!
So go ahead and indulge in this incredible chowder. It's bound to bring you warmth and happiness. Enjoy every spoonful!
Let's dive into some helpful notes for perfecting your Ham and Potato Corn Chowder:
Salt: When it comes to seasoning, it's best to err on the side of caution and slightly under-season with salt. Why, you ask? Well, the ham and bacon will generously contribute their own saltiness to the soup, so we want to avoid going overboard.
Ham: If you happen to have some leftover ham on hand, it's a fantastic addition to this chowder. However, steer clear of using sweet hams like the brown sugar glazed or honey glazed varieties. The sweetness won't quite hit the mark in this particular chowder.
Spices: If you're in the mood for a subtle kick, I recommend adding a pinch of cayenne pepper. It won't make the chowder spicy, but it will add a delightful hint of heat that elevates the flavors.
Potatoes: While red potatoes are the star of the show, feel free to experiment with alternatives like Yukon Golds or Russet potatoes. Russets, in particular, are great because they have a higher starch content, lending a thicker consistency to the chowder.
With these notes in mind, you're well on your way to creating a flawless Ham and Potato Corn Chowder. Enjoy the process and savor every delicious spoonful!
Print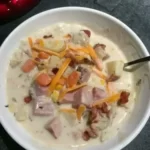 Ham and Potato Corn Chowder
---
2 cups cooked ham – diced into small cubes
6 slices bacon – cooked crispy and crumbled
1 medium yellow onion – diced
1/3 cup all-purpose flour
3/4 tsp. dried oregano
2 (14.5 oz.) cans low-sodium chicken broth
2 carrots – peeled and diced
1/2 cup sour cream or heavy cream (I've tried and like both versions)
2 celery stalks – diced
3 cups milk
Salt and freshly ground black pepper – to taste
5 1/2 Tbsp. butter – divided
1 bay leaf
5 medium red potatoes (1 ¾ lb.) – diced into 3/4-inch cubes
Chopped green onions or chives, for serving
1/2 tsp. dried thyme
2 cups fresh corn (or frozen)
---
Instructions
In a large pot, melt 1 1/2 Tbsp. butter over medium heat.
Add onion, carrot, and celery and sauté until tender, about 4 minutes. Add chicken broth, potatoes, oregano, thyme, and bay leaf and season with salt and pepper to taste.
Bring mixture to a boil over medium-high heat, then reduce heat to medium, cover with lid and allow to cook, stirring occasionally until potatoes are nearly tender, about 15 minutes.
Add in ham and corn and cook until potatoes are tender, about 5 minutes longer.
In a medium saucepan, melt remaining 4 Tbsp. butter over medium heat. Add flour and cook mixture, stirring constantly, 1 1/2 minutes.
While whisking, slowly add in milk, and whisk vigorously to smooth lumps, season with salt and pepper to taste. Bring mixture to a boil and allow to thicken, whisking constantly.
Remove from heat, stir in sour cream or heavy cream.
Pour the milk mixture into soup mixture (once potatoes are tender) and stir.
Serve warm and topped with bacon and chives.