I make this Lobster, Crab and Shrimp Mac and Cheese as either a main dish or with a nice steak for an extra special meal. My husband is adamant that Mac and Cheese cannot be a main entrée, but this is an exception. The complexity and addition of seafood has convinced him that there is an exception to the rule!
I have served this when we host dinner parties and our guests have absolutely love it – the unique take on basic baked mac and cheese (which is also delicious) adds a special touch when having guests for dinner.
This Mac and Cheese is hearty and so flavorful, so I serve it with sides that are simple and light. Green beans, roasted asparagus, roasted tomatoes, or a salad are nice complements.
Enjoy!
Notes:
• Cheese: I suggest using Gruyère along with a cheddar for the best flavor. Fontina is a good substitution option as it melts well. If you do substitute cheese, make sure it is a good melting cheese.
• Panko Topping: Adding shredded Parmesan and/or Cheddar is a nice combination to add to the panko.
• Freezing: When freezing anything with dairy, separation may occur which changes the texture. If you do freeze the Mac and Cheese, cut into individual portions, wrap tightly with plastic wrap, and place in a freezer bag or airtight container. To thaw, it is best to set the Mac and Cheese in the refrigerator overnight.
• Reheating: The best way to reheat the Mac and Cheese is in the oven. Preheat oven to 300° F – Make sure the Mac and Cheese is in a baking dish, cover with foil, and heat about 20-30 minutes or until warmed.
• Storing Leftovers: Cover the Mac and Cheese tightly and store in the refrigerator up to 4 days.
• Preparing in Advance: Prepping the Mac and Cheese the day before without baking is not recommended. The texture of the cheese will change and be unpalatable.
Print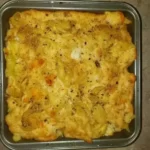 Lobster, Crab and Shrimp Macaroni and Cheese
---
1 lb. elbow macaroni
½ cup unsalted butter, divided
½ cup flour
3 cups whole milk, room temperature
1 cup heavy cream, room temperature
4 cups grated Gruyère cheese
2 cups grated sharp cheddar cheese
Coarse salt
Fresh ground pepper
1 ½ lb. mixture of cooked lobster, crab, and shrimp
1 cup panko breadcrumbs
---
Instructions
Preheat the oven to 375° F.
Coat a 2-quart baking dish with cooking spray (or lightly coat it with butter).
Cook the pasta just to al dente, according to the package directions. Drain, rinse with cool water, and set aside.
Make the roux
Melt 6 Tbsp. of the butter in a large pot over medium heat.
Add the flour, then whisk constantly until it's fully combined, about 30 seconds.
Slowly add the milk and cream, whisking constantly, until it's combined and smooth, about one minute more. Reduce the heat to low.
Cheese Sauce
Stir into the roux the shredded cheeses, one handful at a time, stirring to combine completely between additions.
Add salt and pepper to taste.
Remove from heat.
Assemble and Bake the Mac and Cheese
Gently stir in the cooked pasta and seafood mixture into the cheese sauce.
Pour the mixture into the prepared baking dish.
Melt the remaining 2 Tbsp. butter and mix it with the panko.
Sprinkle on top of the mac and cheese.
Bake for about 30 minutes, or until the seafood mac and cheese is hot throughout and the breadcrumbs are golden brown.
Serve immediately.