Comfort Food Classic: Old School Spaghetti
Take a trip down memory lane with our Old School Spaghetti recipe! This comfort food staple, loaded with rich tomato sauce and perfectly cooked pasta, is sure to stir up nostalgia and warm up any dinner table.
Questions & Answers:
Q: Can I use other types of pasta for this recipe?
A: While spaghetti is traditional, you can certainly use other types of pasta like penne, rigatoni, or fettuccine.
Q: Can I add vegetables to my Old School Spaghetti?
A: Absolutely. Feel free to add bell peppers, mushrooms, zucchini, or any other veggies you enjoy.
Q: What should I serve with Old School Spaghetti?
A: Classic sides include a green salad, garlic bread, or roasted vegetables. A glass of red wine also pairs nicely with this dish.
Our Old School Spaghetti recipe is all about simplicity and comfort. It's a meal that feels like a warm hug and tastes like fond memories. Give it a try and share your thoughts in the comments below!
Print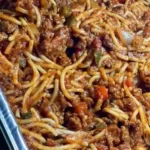 Old school spaghetti
---
300 g to 500 g pasta (see note)
salt
water
To make the cherry tomato sauce:
600 g cherry tomatoes
1 liter four tablespoons
high-quality olive oil, as much as 100 ml
2 cloves minced garlic
½ salt,
½ teaspoon freshly ground black pepper
teaspoon sugar optional
A few leaves of fresh basil or the like, or to taste
To serve:
Grated Parmesan cheese optional
---
Instructions
Cooking pasta:Bring a big quantity of salted water to a boil and cook the spaghetti in step with package deal instructions.Save 1 cup (250 ml) of spaghetti water (you can't use up all the water, but the more the better!) Describe the rest.
To make cherry tomato sauce:Over medium warmth, heat olive oil in a big saucepan or skillet.If you want to reduce the acidity of tomatoes, you can add cherry tomatoes, chopped garlic, salt, pepper, and sugar.Simmer for a few minutes, stirring occasionally, until the tomatoes are tender on all sides.After about five minutes, some tomatoes will begin to burst.Squeeze the tomatoes with a fork until they are lightly mashed to allow the juice to drain.Remove from the warmth and add the basil. Taste and modify seasonings.
Put the pasta in the pot, stir in the pasta and sauce.If necessary, add some water from the specific cooking water to thicken the sauce. Throw to collect.Serve: Divide cherry tomato pasta into 4 bowls.Sprinkle with grated Parmesan cheese.
Enjoy !
FAQs:
Q: What is Old School Spaghetti?
A: Old School Spaghetti typically refers to spaghetti served with a traditional marinara or meat sauce. It's a beloved staple of home cooking and often brings back memories of family dinners and childhood meals.
Q: How do you make Old School Spaghetti?
A: To make Old School Spaghetti, start by preparing your sauce, which often involves simmering tomatoes, garlic, onions, herbs, and possibly ground meat. While the sauce is simmering, cook your spaghetti until it's al dente. Finally, combine the cooked pasta with the sauce and serve with a generous sprinkle of Parmesan cheese.
Q: Can I make Old School Spaghetti in advance?
A: Yes, the sauce can be made in advance and stored in the refrigerator or even frozen. You can then reheat it and mix with freshly cooked pasta when you're ready to serve.