this Peaches & Cream Cheese Loaf. This delightful loaf marries the natural sweetness of ripe peaches with the richness of cream cheese, creating a moist and flavorful treat that's perfect for breakfast, brunch, or dessert. With a hint of lemon zest and a touch of cinnamon, this loaf offers a harmonious balance of flavors that will tantalize your taste buds and leave you craving for more.
Why You'll Love This Recipe:
This Peaches & Cream Cheese Loaf offers a delightful contrast of textures and flavors. The cream cheese adds a creamy and tangy element, beautifully complementing the sweetness of the peaches. The lemon zest adds a refreshing citrusy note, while the optional cinnamon infuses a warm, comforting aroma. Whether enjoyed with a cup of tea in the afternoon or as a sweet start to your day, this loaf promises a delightful experience for your palate.
Recipe Tips and Variations:
Peach Selection: Use ripe and juicy peaches for the best flavor. If fresh peaches are unavailable, canned peaches in natural juice (drained and diced) can be a convenient substitute.
Cream Cheese Texture: Ensure the cream cheese is softened to room temperature for easy incorporation into the batter. This step guarantees a smooth and creamy consistency in the loaf.
Cinnamon Variation: If you enjoy a hint of spice, consider adding a teaspoon of ground cinnamon to the dry ingredients. Cinnamon enhances the overall warmth of the loaf's flavor profile.
Glaze Option: For an extra touch of sweetness, drizzle a simple glaze made with powdered sugar and a splash of lemon juice over the cooled loaf. This adds a glossy finish and a burst of citrusy sweetness.
Why This Peaches & Cream Cheese Loaf Stands Out:
Perfect Balance: This recipe achieves a perfect balance between the creamy richness of cream cheese and the natural sweetness of peaches. Each bite offers a harmonious blend of flavors that dance on your taste buds.
Moist and Tender: The combination of cream cheese and peaches ensures a moist and tender texture. This loaf stays fresh for several days, allowing you to savor its deliciousness over time.
Versatile Enjoyment: Whether served as a breakfast treat, dessert, or snack, this Peaches & Cream Cheese Loaf caters to various occasions. Its versatility makes it a delightful addition to any menu.
What to Pair With This Loaf:
Pair a slice of this Peaches & Cream Cheese Loaf with a dollop of whipped cream or a scoop of vanilla ice cream for a luxurious dessert experience. Alternatively, enjoy it alongside a piping hot cup of coffee, tea, or a glass of cold milk for a delightful breakfast or afternoon snack. For an elegant touch, serve the loaf slices on dessert plates dusted with powdered sugar and garnished with fresh peach slices.
Remember it later
Like this recipe! Pin it to your favorite board NOW!
Print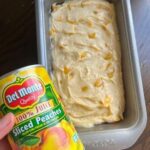 PEACHES & CREAM CHEESE LOAF
---
Author:

Total Time:

1 hour 5 minutes
For the Peaches & Cream Cheese Loaf:
8 oz cream cheese (1 package), softened
½ cup butter (1 stick)
1 ½ cups sugar
½ tablespoon lemon zest
2 eggs
2 ¼ cups all-purpose flour
1 ½ teaspoons salt
1 tablespoon baking powder
1 teaspoon cinnamon (optional)
1 cup milk
15 oz can sliced peaches, drained and diced
---
Instructions
Preparation and Preheating:
Preheat the oven to 375°F (190°C) and generously grease a standard bread loaf pan.
Creaming and Mixing:
In a large bowl, cream together the softened cream cheese and butter until smooth and creamy.
Add the sugar, eggs, and lemon zest to the creamed mixture. Beat until the mixture is light and fluffy.
Dry Ingredients and Peaches:
In a separate small bowl, combine the all-purpose flour, baking powder, salt, and cinnamon (if using). Mix thoroughly to evenly distribute the dry ingredients.
Slowly add the dry ingredients and milk to the wet ingredients, alternating between the two. Begin and end with the dry ingredients. Mix until just combined.
Gently fold in the drained and diced peaches into the batter until evenly distributed.
Baking the Loaf:
Transfer the prepared batter to the greased loaf pan, spreading it out evenly.
Bake in the preheated oven for 50-55 minutes or until a toothpick inserted into the center of the loaf comes out clean.
Cooling and Slicing:
Allow the Peaches & Cream Cheese Loaf to cool in the pan for about 15-20 minutes.
Carefully remove the loaf from the pan and transfer it to a wire rack to cool completely.
Once completely cooled, slice the loaf into generous portions.
Serving and Enjoyment:
Serve the slices of Peaches & Cream Cheese Loaf on dessert plates, dusted with powdered sugar if desired.
Optionally, garnish each slice with additional lemon zest or fresh peach slices for a decorative touch.
Enjoy the moist, flavorful, and creamy indulgence of this delightful Peaches & Cream Cheese Loaf. Perfect for any occasion, this loaf promises a delectable experience with every bite.
Notes
This Peaches & Cream Cheese Loaf brings together the richness of cream cheese and the sweetness of peaches in a delectable creation that's sure to impress. Whether shared with loved ones or savored solo, each slice offers a taste of pure bliss. The moist texture, delightful peach chunks, and the subtle tang of cream cheese create a delightful harmony that defines this dessert. Serve it with a smile and watch as it disappears, leaving behind satisfied hearts and empty plates.
Prep Time:

15 minutes

Cook Time:

50 minutes
Remember it later
Like this recipe! Pin it to your favorite board NOW!