This soup is one that will cure whatever ails you! It is hearty and loaded down with vegetables, barley, and beef. All the flavors come together and make an incredible soup that is also quick and easy to make.
At first, I was feeling a little nervous looking at the ingredient list but then I saw the step where you just toss the rest of the ingredients into the pot. My son even pitched in to help dump the rest of the ingredients in. Fun family times!
This freezes well and the broth is perfect for dunking rolls or a crusty baguette. For me, this is an all-year soup. In the cold months, it is hearty and warming but in the warm months, it is broth based and loaded with great veggies.
It is a comfort soup any time of the year. If you prefer using a Crockpot, check the Notes for instructions!
Notes :
* If the soup thickens too much while cooling, add broth to reach desired consistency.
* If you substitute ground beef for the steak, be sure to drain the fat after browning the meat.
* A crusty baguette dipped in the broth is really delicious; buttered biscuits or dinner rolls go perfectly as well.
* For variety, you can use other vegetables. I like to add peas and green beans!
* If you prefer to use your Crockpot, after you sear the steak and cook the onions, put those in the Crockpot along with all the other ingredients and cook for either 4 hours on high, or 8 hours on low.
* The barley can be substituted with couscous for a different twist.
* This soup can be frozen for up to 6 months (yay!)
* I use pearl barley which usually takes 25-30 minutes to cook – I suggest you stick with it. If you use hulled barley the cook time is 40-50 minutes which is significantly longer.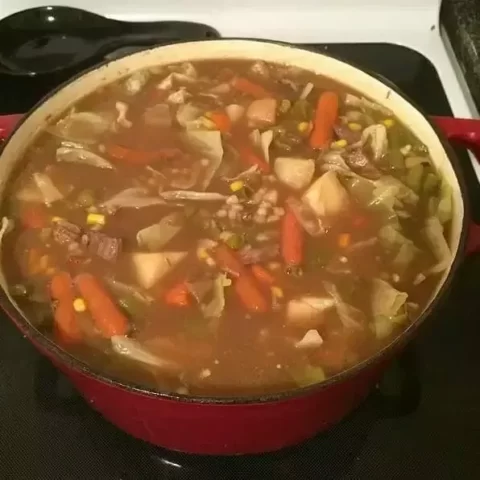 Best Ever Beef And Barley Soup
Ingredients
1 Tbsp. olive oil
1 onion chopped
1 garlic clove minced
2 carrots sliced
1 stalk celery sliced
2 cups cooked flank steak or chuck steak – cut in 1-inch pieces
6 cups reduced sodium beef broth
1 can petite diced tomatoes 14-15 oz, undrained
1/2 green pepper diced
2/3 cup pearl barley
1 Tbsp. Worcestershire sauce
1/4 tsp. dried thyme
1 package beef gravy mix
1 bay leaf
2 Tbsp. red wine (optional, but really makes the broth exceptional)
2 Tbsp. fresh parsley or 2 tsp. dried
salt & pepper to taste
Instructions
In a stock pot, heat olive oil over medium high heat, add the steak and brown on all sides. Add the onions and garlic and cook until softened.
Add remaining ingredients to pot and bring to a boil. Reduce heat, cover, and simmer about 40-50 minutes or until barley is cooked.
Remove the bay leaf and serve.
Nutrition Information:
Amount Per Serving:
Calories:

0
Total Fat:

0g
Saturated Fat:

0g
Trans Fat:

0g
Unsaturated Fat:

0g
Cholesterol:

0mg
Sodium:

0mg
Carbohydrates:

0g
Fiber:

0g
Sugar:

0g
Protein:

0g