Corn Nuggets are the epitome of comfort food, combining the sweetness of corn with a delightfully crispy exterior. These golden nuggets of goodness are perfect as appetizers, snacks, or as a side dish for your favorite meals. With a simple yet flavorful preparation, they bring a burst of corn sweetness in every bite. Get ready to indulge in the crispy, golden perfection of homemade Corn Nuggets.
Why You'll Love This Recipe:
Corn Nuggets offer a delightful contrast between the sweetness of corn and the satisfying crunch of the golden crust. This recipe captures the essence of deep-fried goodness, making it an instant crowd-pleaser. Whether you're hosting a party or simply craving a satisfying snack, these nuggets are quick to make and even quicker to disappear.
Recipe Tips and Variations:
Spice It Up: Add a pinch of cayenne pepper or paprika to the batter for a subtle kick.
Cheesy Twist: Mix in grated cheddar or pepper jack cheese to the corn mixture for a gooey, melty surprise inside.
Dipping Sauces: Serve with a side of ranch dressing, honey mustard, or spicy aioli for dipping.
Why These Corn Nuggets Stand Out:
Perfect Bite-Sized Delights: These bite-sized nuggets are easy to pop and share, making them a hit at parties and gatherings.
Crispy Exterior, Tender Interior: The outer layer is golden and crispy, while the inside remains tender and filled with the natural sweetness of corn.
Kid-Friendly and Adult-Approved: Loved by both children and adults, these Corn Nuggets are a versatile snack for all ages.
What to Serve With This Recipe:
Pair these Corn Nuggets with a zesty salsa for a refreshing contrast or serve them alongside a cool, creamy dip. A side of fresh salad or coleslaw adds a crisp element to balance the richness of the nuggets.
Remember it later
Like this recipe! Pin it to your favorite board NOW!
Print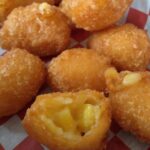 Corn Nuggets
---
1 can creamed corn
1 can whole kernel corn, drained
1/2 cup yellow cornmeal
1/2 cup all-purpose flour
1 egg white
2 tablespoons milk
Salt and pepper, to taste
3 cups vegetable oil (for frying)
---
Instructions
Preparing the Corn Mixture:
In a medium bowl, combine the creamed corn and drained whole kernel corn. Mix well to create a homogenous corn mixture.
Freezing the Corn Nuggets:
Line a baking sheet with aluminum foil and lightly coat it with vegetable oil or cooking spray. Drop spoonfuls of the corn mixture onto the sheet. Freeze the nuggets until firm, approximately 3 hours. This step ensures the nuggets hold their shape during frying.
Heating the Oil:
In a large, deep skillet, heat 1 to 2 inches of vegetable oil over medium-high heat. Use a thermometer to maintain the oil temperature around 350°F (175°C) for optimal frying results.
Preparing the Batter:
In another medium bowl, whisk together the yellow cornmeal, all-purpose flour, egg white, milk, salt, and pepper. This creates a smooth, thick batter that will coat the frozen corn nuggets perfectly.
Dipping and Frying:
Take the frozen corn nuggets out of the freezer. Dip each nugget into the batter, ensuring an even coat. Carefully place the coated nuggets into the hot oil, avoiding overcrowding the skillet. Fry in batches if necessary. Fry the nuggets until they turn golden brown and crispy, about 2-3 minutes per batch.
Draining and Serving:
Using a slotted spoon, transfer the fried Corn Nuggets onto a plate lined with paper towels to drain any excess oil. Serve immediately while hot and crispy.
Final Note:
Enjoy the crispy indulgence of homemade Corn Nuggets as a delightful snack, appetizer, or accompaniment to your favorite meals. Each bite captures the essence of sweet corn wrapped in a golden, crunchy embrace. Whether shared with friends or savored solo, these nuggets are a testament to the joy of homemade comfort food.