At first, I had no idea what to expect based on the name of the dish. I had to ask a trusted friend who laughed at me but did clarify the term "crack" in regard to food. Of the two meanings used with the term, this recipe hits on both: something so delicious you cannot stop eating (it is delicious!), and a dish with cheese, ranch seasoning, and bacon. I took a leap and made it and I am really glad – so is my family.
I am always looking for new recipes to try that are not time or labor intensive. It is perfect meal when it is cold outside, but it is also great any time of year.
It is simply a fantastic soup that makes a meal that pleases even those who are very selective with their food (my son for example)!
Notes:
• Kale or zucchini noodles are great substitutes for spinach.
• Baguettes, garlic bread, ciabatta, any artisan loaf… bread goes well with this soup.
• You do not have to use spaghetti noodles – use any pasta you want.
• This soup freezes well. Seal in an airtight container or freezer bag and it will be good for up to 3 months. Just let in thaw in the fridge when you want to have it.
Print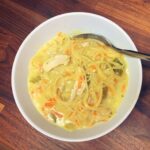 CRACK CHICKEN SOUP
---
3 cups chicken shredded – either bake chicken breasts or use leftover chicken
12 slices thick cut bacon cooked and diced
1 Tbsp. butter or olive oil
1/2 cup carrots – diced
1/2 cup celery – diced
1 small onion – diced
1 can of condensed chicken soup (10.5 oz.)
1 cup whole milk
6 cups chicken stock – low sodium
2 Tbsp. Ranch seasoning mix
3 cloves garlic
1/2 tsp. garlic powder
8 oz. cream cheese
2 cups cheddar cheese shredded
3 cups baby spinach
1/4 cup heavy cream
8 oz. pasta – spaghetti
---
Instructions
Preheat oven to 375° F
Line a baking sheet with aluminum foil or parchment paper.
Season chicken on both sides with salt and pepper, spray the top of chicken with a little olive oil. Place in preheated oven and bake for 30 minutes.
Check internal temperature with meat thermometer, it should be 165° F. Remove from oven, let it rest for 5 minutes and shred the chicken.
While the chicken bakes, cook bacon in a Dutch oven or soup pot until crispy – remove from pan, cool, and dice. Set aside.
Save the bacon grease in the bottom of the pot.
In large stock pot, over medium heat, add 1 tablespoon oil or butter and sauté the onion, celery, and carrots. Sauté for about 5 minutes.
In a medium mixing bowl, combine condensed chicken soup and the milk. Whisk until smooth.
Over medium heat, add the soup mixture to the stock pot and stir. Add in chicken broth, ranch seasoning, garlic, and garlic powder and stir to combine. Add the pasta at this time as well.
Bring to boil, stirring occasionally. Reduce heat and keep at a steady boil for 5 minutes.
Add in shredded chicken and continue cooking for 5 minutes
Add the softened cream cheese to the pot and whisk until it has completely melted and combined.
Stir in the cheddar cheese and continue to whisk until has melted and combined.
Add baby spinach and heavy cream.
Taste for seasonings and adjust as needed.
When serving, garnish with sliced scallions and chopped bacon.