Homemade Chicago style deep dish pizza is a delicious and incredible recipe, made from flour, cornmeal, tomato sauce and other ingredients for a flavorful taste.
Homemade Chicago style deep dish pizza is a complete butter-crust with tomato sauce and fine layer of chess that makes it yummy. Every ingredient in this recipe is so special with a crunchy edge, flaky crust and soft and flavorful on the inside. This homemade pizza tasted just like the real deal. Every layer of the recipe tastes so perfect and it can be served on any occasion.
Prep Time: 4 hours
Cook Time: 30 minutes
Total Time: 4 hours 30 minutes
Yield: 2 deep dish 9-inch pizzas
Print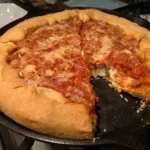 Homemade Chicago Style Deep Dish Pizza
---
Pizza Crust x2
3 ¼ cups all-purpose flour spoon & leveled
½ cup yellow cornmeal
1 ¼ teaspoons salt
1 Tablespoon granulated sugar
2 ¼ teaspoons Red Star Platinum yeast
1 ¼ cups slightly warm water
½ cup unsalted butter, divided (¼ cup melted, ¼ cup softened to room temperature)
Olive oil for coating
Tomato Sauce for Both Pizzas
2 Tablespoons unsalted butter
1 small onion, grated
¾ teaspoon salt
1 teaspoon dried oregano
½ teaspoon crushed red pepper flakes, optional,
3 garlic cloves, minced
one 28-ounce can crushed tomatoes
¼ teaspoon granulated sugar
Toppings for Both Pizzas
4 cups shredded mozzarella cheese
½ cup grated parmesan cheese
Handful of pepperoni per pizza, 4 slices cooked, optional
Crumbled bacon, 2 per pizza, optional
Cooked and crumbled sausage for topping, optional
Thinly sliced green peppers and/or onions for topping, optional
Sliced mushrooms for topping, optional
---
Instructions
Step 1:
To make the crust,  measure using a spoon into a cup, then mix flour with the rest of the dough ingredients, and mix together using a hand, mixer, or bread machine for smoothness for about 7 minutes at medium low speed.
Step 2:
Put the dough in a lightly oiled bowl and cover, allow to rise for about 60 minutes or until it gets very puffy. Prepare your pizza pan and grease with non-stick vegetable oil spray, then pour in 3-4 tablespoons of olive oil.
Step 3:
Stretch the dough to make a large circle and put the dough in the pan, and stretch it towards the edges until it starts to shrink back. Cover and leave for about 15 minutes.
Step 4:
Preheat the oven to 425 degrees Fahrenheit and continue to stretch the dough to cover the bottom of the pan while the dough rests, then gently push it up the sides of the pan and let the crust rest for another 15 minutes.
Step 5: 
Allow the crust to bake for 10 minutes, or until it starts to get slightly brown. Then prepare the filling. To prepare the filling, drain the tomatoes thoroughly and combine them with the Pizza Seasoning and others. Then cover the bottom of the crust with the sliced mozzarella, then add the sausage first and then the tomato mixture next.
Step 6:
Sprinkle with the grated Parmesan, and spread with the olive oil. Then allow to bake for about 25 minutes, or until the filling is bubbly and the topping is golden brown.
Step 7:
Remove the pizza from the oven onto a rack with a spatula. Leave the pizza to cool for about 15 minutes before cutting and serving.
Notes
Nutritional Information
Calories: 197kcal | Carbohydrates: 23g | Protein: 9g | Fat: 8g | Cholesterol: 19mg | Sodium: 126mg | Potassium: 262mg | Fiber: 4g | Sugar: 4g | Vitamin C: 44.6mg | Calcium: 160mg | Iron: 1.4mg