This is one of my favorite soups! It is like minestrone, but I prefer fagioli because it has meat and extra vegetables – it is just a little bit heartier and has a greater depth in flavor. I always serve with parmesan on top and a warm, crusty baguette cut into slices. Dunking the baguette into the soup is fantastic!
The other thing I love about this recipe is that it cooks all day in the slow cooker and so easy to make. You even add in the pasta and beans toward the end, so you don't have to cook the pasta separately. There is very little effort for a meal that will satisfy, warm you on cold evenings, and you might just have leftovers!
This soup makes fantastic leftovers! It tastes just as good, if not better, the next day!
Notes:
• Refrigerate: Place the soup in an airtight container and put it in your fridge. It will last 3-4 days.
• Reheat: When you are ready to eat it again then put the soup in a medium sized pot and cook it on medium-high heat on your stove. It will take 5-10 minutes until it's heated through.
• If you cannot find ditalini pasta, there are good substitutions. Tubettini, macaroni, orzo, conchigliette, and others. It just needs to be small sized.
• If you do not have beef broth, chicken broth will work well.
• The Italian sausage lends a distinct and delicious flavor to this soup. You can make the recipe with only ground beef if you like. The mixture of the beef and sausage is more authentic, but the beef alone is great as well! Turkey sausage also is a great substitution.
Print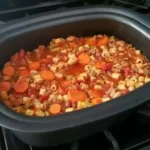 Olive Garden Slow Cooker Pasta Fagioli
---
1 tablespoon extra-virgin olive oil
1/2 lb. lean ground beef
1/2 lb. ground Italian sausage
2 whole carrots diced
4 celery stalks diced
1 medium onion diced
1 (28 ounce can) crushed tomatoes
3 (14.5 ounce can) beef broth
1 Tablespoon Italian seasoning
2 whole bay leaves
salt and pepper to taste
1 (15 ounce can) cannellini beans, drained and rinsed
1 (15 ounce can) red kidney beans drained and rinsed
1 cup ditalini pasta uncooked
1 Shaved parmesan – optional
---
Instructions
Add olive oil to a large skillet and add the ground beef and sausage. Cook until browned and no longer pink.
Place the meat mixture in a slow cooker along with the rest of the ingredients except for the beans, pasta, and parmesan.
Cook on low for 7-8 hours or high for 3-4 hours. 30 minutes before serving stir in beans and ditalini.
Season with salt and pepper to taste. Discard bay leaves before serving.
Serve immediately while hot. Sprinkle parmesan on top if desired and serve with breadsticks or a crusty baguette for extra deliciousness!