Prepare to be amazed by the sheer simplicity and irresistible blend of flavors in this delightful recipe for Baked Garlic Parmesan Potato Wedges! These wedges are not only an ideal side dish but also a stellar appetizer for any gathering.
To be completely candid, this fresh take on semi-french fries has truly left a lasting impression on me. The remarkable crunch, combined with the delectable essence of garlic and Italian seasonings, is nothing short of extraordinary. The allure of garlic and cheese atop fries is undeniable, and I'm confident you'll find it impossible to resist, just like I do.
Fries hold a special place in my heart – my younger self, and my brother, with our seemingly boundless metabolism, used to embark on midnight french fry missions to local fast-food joints. Whether it was Wendy's, Carl's Jr., or the golden arches of Mickey D's, we were in for the crispy potato treasures. Even during breakfast outings at iHop, my order consistently leaned towards chicken strips and fries. While pancakes have their charm, they can't quite compete with the crispy allure of deep-fried potatoes paired with a generous side of ketchup.
As the years progressed and I stepped into adulthood, I attempted to curb my fry fixation by occasionally ordering them as a side dish when dining out, as opposed to adhering to my former motto of "fries with everything" that I staunchly upheld for two decades. More often than not, I opt to share my portion with my amazing husband – he doesn't mind relinquishing a few… or perhaps 60%. His generosity knows no bounds.
Now, when the hankering for fries strikes while I'm comfortably clad in my loungewear, I opt for a homemade batch instead of placing a takeout order. And let me tell you, the natural cut fries from Wendy's are no match for these splendid baked garlic parmesan potato wedges! So when I proclaim that these wedges are absolutely worth crafting, rest assured that my enthusiasm is genuine.
Print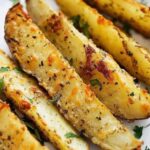 Baked Garlic Parmesan Potato Wedges
---
Russet potatoes 4 sliced into wedges Make sure the shape is similar
Italian seasoning 1 and a half spoon
Salt and pepper to taste
Olive oil 4 tablespoon
Garlic powder 2 teaspoon
Parmesan cheese half cup shredded
Ranch dressing or ketchup as a side Optional
Parsley for garnishing Optional
---
Instructions
Preheat the oven to 375 degrees. Take a large pan or baking sheet and grease it.
Take a bowl to add the potato wedges, olive oil, garlic powder, salt, pepper, Italian seasoning, and parmesan cheese.
Mix it well that all the wedges are coated with the seasoning.
Now one by one add them to the baking sheet.
Bake it for 25-35 minutes. Before getting them out check with a fork. Add them to a serving bowl and plate and sprinkle some parsley but it is optional.
Add any dip to the side. We do prefer the Ranch dressing and just simply ketchup.