This is a hearty meatloaf with parmesan cheese in this, and it's a very flavorful meal for those who want something that really will make your meal shine. Best of all, it's also pretty low in calories—only 243!
Tips:
What's the best side for this?
The best side for this is either corn, green beans, or some mashed potatoes. Typically, one small side is more than enough for this hearty recipe, and it's a great one to choose, since it does offer a nice little homecooked dinner people can love.
Can I add other spices?
You can, but if you want to harness the parmesan cheese along with Italian seasoning, you want to put the herbal blend directly into this, so make sure that the spices are not smothered by the new ones that you add.
What kind of meat should I use?
We recommend ground beef that's lean, however if you want to, ground pork is also really good.
Some people like to use ground beef completely in the meatloaf, which is fun. Some like to go half and half. Some like to do all pork if they like their meatloaf mixture to have a lot more moisture and flavor. For a drier loaf, make sure to have more ground beef.
Another type of meat that works well in this is Italian sausage. Some people don't like the little kick that it has, so it might not be good for the loaf if it's not what you want.
Otherwise, go and try other options. Do understand that it does affect the calorie count, but with this one, we go half and half. If you choose to go all ground beef, do factor in the calories that go along with this, and make sure to adjust this accordingly when you're putting together your weight watchers recipes.
Overall, any hearty meat works here, because as long as the flavors soak it all up, you're good to go with this!
Print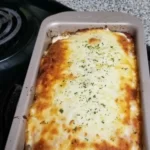 Parmesan Meatloaf
---
1 pound lean ground beef (7% or less)
3 tablespoons ketchup (plus more for brushing on top)
2 large egg whites (I use 1 whole egg instead)
1 stalk celery, finely chopped
2 teaspoons canola oil
1 carrot, peeled and finely chopped
1 cup finely chopped onion
1 cup finely chopped white mushrooms
1/4 teaspoon black pepper
1/2 teaspoon garlic powder (or 1 teaspoon minced fresh)
1/2 cup quick cooking or old-fashioned oats (not instant)
1 tablespoon Worcestershire sauce
1 teaspoon dried thyme leaves (not ground thyme)
1 teaspoon salt
---
Instructions
Turn on the oven and make sure it's preheated to 350. Get a pan and spray it with some cooking spray.
Heat up some oil in a skillet with the heat set to medium. Add in the onions, mushrooms, celery, and carrot. Then cook tis, stirring it often, until the onion goes soft, usually around 5 minutes. Take the mixture and set it into a large bowl
Add the rest of the veggies to this and the ingredients to your bowl, and mix all of this together. Shape it into a loaf shape in your bread or loaf dish.
Put it in the oven and then bake this for at least 30 minutes. Ads some ketchup to the top if you'd like. Cook this for about 45 minutes until the meatloaf reads 160 degrees when you put a thermometer in there
Take this off the heat, let it sit for about 5 minutes, then slice it up into 8 different slices to serve!